Visit to BBC Cambridge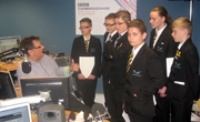 A group of Year 9 students had a look behind the scenes at the BBC radio and television studios in Cambridge.
A group of Year 9 students had a look behind the scenes at the BBC radio and television studios in Cambridge.
Around 20 students took part in the visit on Thursday (May 2nd).
They were shown around the studios and told about how they could pursue careers in the media.
Lisa Smith, who led the trip, said: "The students got to experiment with introducing the radio show, they got to press the buttons and speak into the microphone.
"The presenter interviewed a couple of them to show them what it was like to be on the radio.
"The students loved it and were exceptionally well-behaved.
"When they were being interviewed some of the students were very professional."
To view a gallery of pictures from the trip click here.
Our visit to BBC Cambridge by Thomas Clarkson Academy students
Gertruda Dambrauskaite
We went to Cambridge BBC Studio and we saw how BBC news, radio and online website work.
I have learnt that it is really hard to get to work as a presenter or a reporter in the BBC and that you have to try a lot to get in.
I have also learnt to follow my dreams because they do come true and if you try your hardest you could end up doing what you've always wanted to. And now I will look more at the thing that I want and less at the things that people expect me to do.
I have enjoyed the trip very much and especially I have enjoyed the experience of talking at a radio studio with Andie Harper. Also I got to see how everything works and how everyone in the UK gets the news on tv and online and how the radio studio works.
Karlie Roberts
Arrived at Cambridge BBC studios. We went into two small groups of ten students. There were two separate tours that did the same tour but at different times. First if all, my group went into a room where the radio broadcasts were made, and some of us tested the radio mics and sounds. We heard examples of the radio broadcasts, and how they were made. For example; they have to watch TV and if there's breaking news, they had to report it straight away onto their radio broadcasts. They did this 24/7.
Afterwards, we strolled into the meeting room and we had a few people speak to us about filming, producing and much more…some of us even got to be interviewed and were recorded into the mic and video camera.
Then, we walked up the stairs into this room with all media and TVs were. This is where the news was made with a video camera. After that we went into another room and saw where the actual news was made. On the television, the news room looked better and bigger than it actually is in real life. In the background, it looked like people were walking behind but in Cambridge, it's just a fake background. It was quite exciting to the where the after news was recorded.