Rounders tournament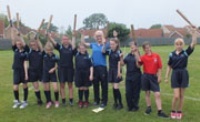 Our Year 9 rounders team were victorious again in the latest Isle of Ely tournament.

One of our TCA teams after winning a game at the tournament last week
Our Year 8 rounders team were victorious again in the latest Isle of Ely tournament.
Two teams from Cromwell and teams from Neale Wade, Ely and Witchford visited Thomas Clarkson Academy on Wednesday last week (June 19th) for the tournament.
Year 7 and Year 8 Thomas Clarkson teams competed, and for our year 8 rounders team it was their last tournament before the Level 3 Sainsbury's school games, a county tournament which takes place on Friday.
Match report for Year 8 TCA rounders team
By teacher Amy Anderson
TCA faced teams from Cromwell and Witchford in the pool stage, winning both of their matches. Led by captain Cailyn Bendall, TCA put in a solid performance. The girls were focussed and driven to perform well. There was good batting from Taya Ogden and injured Abi Pittam, and tremendous fielding from Susan Farg, Charlotte Cameron and Kaya Kilby. Having finished in first place they played Cromwell A in the final.
With good pace and spin bowling from Pittam and tight fielding from the rest of the team Clarkson limited the amount of rounders scored by Cromwell.
TCA batted well, fought and strived for rounders but were sensible and safe with their base running, ensuring that very few batters got out.
Coach Miss Smith encouraged and supported the girls to a well-deserved victory.
We wish the year 8 rounders tournament all the best for the county tournament on 28th July.