Youth Service Drop-In Sessions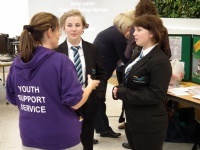 The issue of bullying was the focus of the first drop-in session held by Cambridge's Youth Support Service today.
Students were able to stop by and talk to the team, as well as watch anti-bullying videos and sign an anti-bullying pledge. There was also a competition for the chance to win a £10 voucher or 50 Vivo points. Staff from the Youth Support Service went through the questions with students in order to get conversations going about some of the issues raised.
The team will return in the coming weeks to talk about other issues which may affect young people.
Next week is national Anti-Bullying Week, which will be the focus of assemblies and tutor time.
More information on cyber-bullying and internet safety.
Click here for more details on the Youth Support Service.