Careers Convention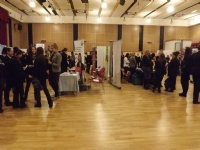 This year's Careers Convention was bigger and better than ever, offering students even more opportunities to speak to representatives from local companies.
Exhibitors included Anglian Water and its partners Grontmij engineering consultants, NWH Construction, Tin Fish creative media, Barclays, Bright Crop and the Ferry Project. There were also a number of local colleges on hand to offer advice on study pathways.
The event, held in conjunction with the Fenland Enterprise in Education Project, was targeted at year 8, 11 and Sixth Form students in the lead up to them making crucial decisions. In addition, all students and their parents were invited after school.
CEIAG Ambassador Hetty Cliss said: "It was a very successful day and we reached out to lots of students. The feedback from employers was very good.
"Events like this benefit students because it raises aspirations and it helps them to speak to people from the world of work, even if they're not thinking about going into that particular field."