Anglian Water Staff to Offer Expertise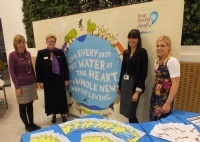 TCA will benefit from the close links with Anglian Water as part of the 'Business in the Community' scheme.
The company will visit the Academy to help raise aspirations and offer career advice on the numerous professions that make up their organisation, including HR and engineering. They will also work with students on interview techniques and there will be the opportunity for site visits and work experience for select students.
Hetty Cliss, CEIAG Ambassador, said: "The benefits of a programme like this is that these are people from real-life positions. Students will be able to speak to people from the world of work who will be able to tell them what's involved in certain jobs. It makes it relevant to students and helps them to make the connection between what they're doing in school and the pathways to different careers."