Happy Christmas to a Hero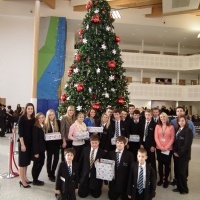 Over the last month, staff, students and families have filled boxes with presents and treats to be shipped to troops currently serving in Afghanistan.
An appeal was made by PE teacher Liz Knowles following a conversation with her brother, a Sgt. Major in the 9th/12th Royal Lancers who is currently on his eighth tour of duty.
She said: "My brother told me that some of the soldiers he was serving with had received no mail, parcels or communication from home and had been deployed in September, so he asked for my help. He wanted everyone he is in charge of to have something to open on Christmas day morning, no matter how small."
"My fiancé is also a current serving Royal Marine and many of our staff and students also have links to our armed forces. The men and women in our armed forces do a great job and it broke my heart to think that on Christmas morning they would have nothing to open."
Miss Knowles appealed for contributions so she could send boxes filled with treats and was overwhelmed with the generous response. TCA showed its support by filling over 100 shoe boxes with goodies.
Miss Knowles said a special thank you to the local branches of Tesco, Asda and Brantano for their donations, Mr Ian Heighton for support and enthusiasm, Symingtons for donations, Anne and Duane Wuerzburger for the donations of gifts and boxes, Emmy and Christopher Sutton for their large donations, Mrs Tracy Loughlin and the children of the childminding groups of Wisbech for their artist creations to cover the boxes and son Alex along with other members of form MB for packing and checking all of the boxes.