Awards From Wisbech Hockey Club For Three Students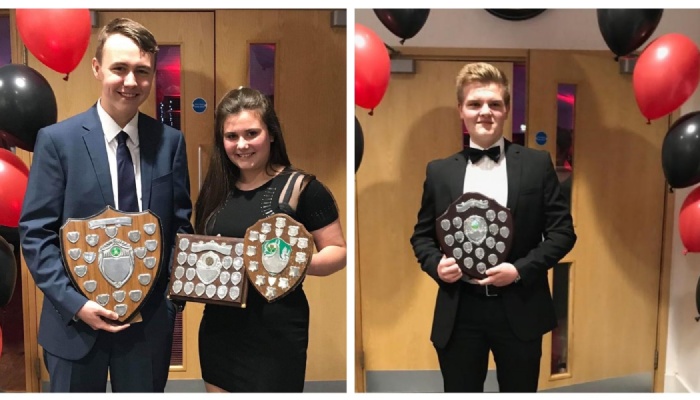 Three of our students have picked up awards at Wisbech Hockey Club's annual celebration ceremony.
The club, supported by outreach project Hockey Futures and England Hockey, has been working closely with TCA to increase participation in the sport and raise the profile of the game.
Following taster sessions in school, two students - Oliwia Bolka and Josh Watson in Year 11 - progressed to playing for the club.
Their efforts led to them winning a handful of awards between them at the club's recent celebration evening, with Sixth Former Ciaran Lowe also a recipient.
Josh scooped the men's fourth team Player of the Season award, while Oliwia picked up the ladies' third team Player of the Season award along with another award for top goal scorer in the ladies' section. She was also voted Most Improved Young Player in the ladies' section.
Ciaran was named Most Improved Senior Player in the men's section.
The awards are voted for by club captains and club officials who have played with, coached or umpired the nominees.
Josh said that starting to play hockey has had a very positive effect on his life.
He said: "After I took part in one of the taster sessions at the end of Year 10, I looked into it and got in touch with Wisbech Hockey Club, where I did a couple of starter sessions. Out of nowhere, it was a sport I wanted to do. I have been playing for the fourth team since then.
"It's the first time I have regularly played sport and it's the first one I've really got into. I like that it's a team game and it's friendly and fun.
"I think it's improved my mental health as well as my physical health. It's given me a focus in school and I find I'm concentrating more because I agreed with my mum that I would stay on top of my schoolwork to be able to go to the training.
"It's also helped me physically because I've now also joined a gym to help improve my game. Hockey has really helped me want to help myself and I feel happy when I'm playing – that's what it's done for me."
Josh and Oliwia took part in a training session with coach Mark Wadsley, a former England junior player.
Oliwia is one of the youngest players in the club's third ladies' team and she said she has enjoyed the opportunity to meet new people.
Lorraine Parker, the ladies' club captain, wrote a letter to the school outlining Oliwia's dedication to the sport, saying: "Oliwia's grit is in the way she has sustained her attendance every week at matches and training, how she has listened and take on board tips and guidance and then put them into practice. Oliwia is scoring goals every week now!
"We are very proud of her achievements. Oliwia is an excellent role model and is a credit to herself, her family and her school."
Ciaran Lowe has been playing hockey since primary school and was credited by the club with helping to build relationships with staff at TCA to ensure the outreach project got off the ground.
Rocco Benincasa in Year 8 is another student who plays for Wisbech Hockey Club.
For more details visit the club's website.