Debut Author Discusses Inspiration and Perseverance During Talk to Year 8s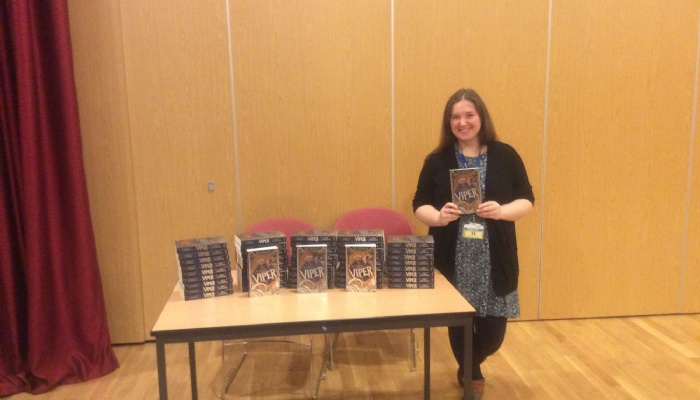 An author who has just released her debut novel spoke to Year 8s about her journey to becoming a published writer.
Bex Hogan is the author of Viper, the first book in a new fantasy trilogy set on the high seas.
She paid a visit to TCA to discuss what inspires her and the highs and lows of being a writer.
The main characters in her book are 17-year-old Marianne and her father the Viper, the defender of
the Twelve Isles. Viper is cruel and merciless - the most dangerous man on the ocean. Marianne is the true heir and has a choice to make about what path to take.
Bex read a passage from the book to give a flavour of her writing, before giving an overview of the writing process, using the analogy of a snake.
She told students that the starting point is the skeleton of the book, from concept to final draft, including the plot, world-building and characters. She discussed her influences, which included
Lord of the Rings and Games of Thrones, along with the coastal areas in Cornwall where she grew up and trips to the Isles of Scilly.
Bex likened getting a book published to giving the snake the organs to exist. She told students that getting published is a tough process and it is important to get used to rejections. She stressed that perseverance is key, along with the ability to continuously edit your work.
She then said the book is given its skin when the printing process starts and showed students footage of how a book is made.
Bex's top writing tips for students included writing down ideas, even if they are not in chronological order and to proofread to develop ideas and spot any holes in the story.
She finished by telling students: "Don't give up. It's not always easy, it takes a lot of perseverance, but don't give up!"
Bex ended the day by signing copies of her book in the library.
Students listened intently to her talk, with some positive feedback on what she'd shared with them.
Kamile said: "I really excited to meet the author. I liked being able to talk to her afterwards about what inspired her to be an author."
Gvido commented: "She seemed really genuine and she really enjoyed her job, you could tell she really wanted to do it. The book sounds really original with a great mix of a pirate theme and assassins."
Jasmine added: "It was interesting to hear how she wrote her book and how her ideas came to mind."