Sixth Former Fundraises For Granddad's Care Home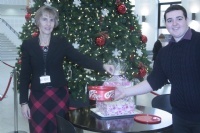 A Sixth Former whose granddad has moved into Glenfield Care Centre got TCA involved in fundraising events for the centre.
Sam Johnson, who is in Year 13, organised a cake sale and raffle, which very well supported by staff and students and has already raised £300.
Sam said: "My Granddad has been in Glenfield since September after he was hospitalised and since he has been at the centre his health has improved. Glenfield will use the money we raise to buy activities and entertainment for the residents, such musicians, demonstrations, fireworks and a Christmas fete.
"This will be my first Christmas where my Granddad won't be sitting with us and none of my family can picture it. This is why I have arranged a cake sale because if my Granddad can't be with me then I will do what I can to make sure he and the other residents are happy."
Other Sixth Formers lent a hand to collect in and sell the cakes – well done to all those involved.