Kickboxer Charlotte Represents England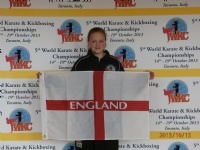 Charlotte Cameron is now ranked world number two and world number 3 in two categories following success at the World Kickboxing Council's World Championships in Italy.
Charlotte travelled with the national squad to compete in her first World Championships in Taranto. It was the third time she had competed at international level and her titles now include the WKC Under 13 World No 2 for Light Contact and the WKC World No 3 for Semi Contact.
It capped an impressive year for Charlotte since she was called up to the full BCKA national squad and WKC national squad.
She said: "Just being in Italy with the national squad and stepping on the mat to fight for your country was a great experience."
Charlotte's achievements in 2013 include WKC European Champion, WKC European Silver and WKC British Open Champion.
Her next competition is the Irish Open Championships in 2014, the biggest martial arts competition in Europe with over 35 countries and 3,000 competitors taking part.