Students meet former Children's Laureate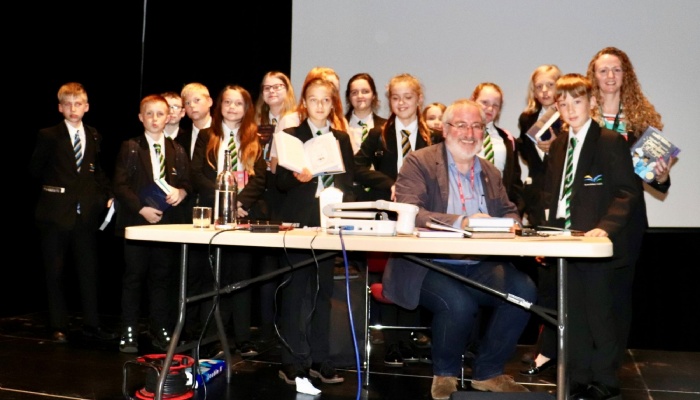 Students were inspired after hearing a talk by award-winning author and illustrator Chris Riddell.
A group of Year 7 and 8 students joined their peers from across the Brooke Weston Trust's schools to hear how Chris, who was the UK Children's Laureate from 2015-17, forged a career in writing and illustrating.
He set up a projector on stage so that the audience at Corby Business Academy could see his drawings as he worked on them. All the while, he spoke about his career, where he gets his inspiration from and how he approaches his work. He also discussed his new series, Cloud Horse Chronicles.
TCA's librarian Miss Robinson said: "Chris was an absolute inspiration to our students from the moment we walked into the theatre, drawing new illustrations there and then which were projected live onto on a large screen behind him.
"Our students listened intently to Chris speak about all aspects of his work, his illustrations, his writing, where he gets his ideas for his stories and characters from and the different aspects of his work, including his role as a political cartoonist. He went back to where it all started as a naughty toddler drawing on his father's study walls with his crayons!
"He sketched all the way through his presentation and made it look so easy!"
Miss Robinson said it was particularly useful for students to hear how Chris keeps all his work in a 'plan
chest', delving back into it at a later date to see if he can create a story from his original ideas.
After his talk, Chris spoke to students individually and signed books and notebooks. He even drew pictures for some of them on request.
Student feedback was very positive, with several saying it had provided them with writing tips and ideas.
"It was so much fun because we would be able to see all of his incredible drawings."
Kristians Popovics
"It was very fun and interesting to meet Chris Riddell and see him draw in person. I learnt about how he gets some of his ideas for stories, as well as how he gets inspiration for character names - some names he has put into his books because fans have asked him to, or he had read their name wrong and wanted to make it up to them. It was fun to see an accomplished artist/author."
Katya Haggett
"In my opinion, the trip was very interesting as the author, Chris Riddell, was not just good and fast at drawing, he was funny in what he said and what he drew. It was impressive the way he drew and the speed he did it in at the start when everyone was walking to their seats. Overall it was a fantastic trip to go on."
Lucinda Watts