TCA's Remembrance Service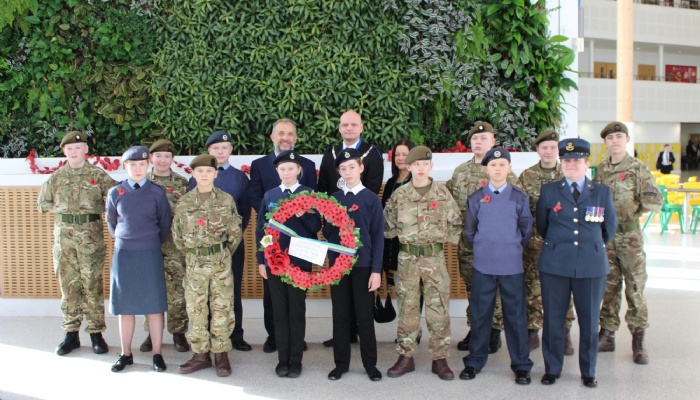 Students and staff at TCA gathered for a poignant remembrance service to pay tribute to the servicemen and women who have lost their lives in conflict.
It began with a parade by cadets into Eden, along with students carrying flags of all the countries represented at TCA. Each flag bore the words 'We remember' in the language of that country.
With Eden filled with students, Sixth Former Chloe Garner played the Last Post ahead of a two minutes' silence. Head Boy Max Hamilton then read the poem In Flanders Fields by John McCrae.
Principal Mr Scott then addressed students, reminding them of the symbolism of the poppy, the importance of remembering those who died for our freedom and how we can honour their memory.
"When I first started at TCA, this remembrance service was one of the things which really impressed me – that ethos and thinking about such things in a caring way," Mr Scott said.
"The poppy reminds us of the sacrifice that has been made so we can have our freedom today. We remember all those who have given their lives in the hope of bringing peace and justice to this world.
"In a world that's still broken by war and with many children still living in fear, we hope for peace. For students here, we should seek peace in whichever situation we find ourselves in. That's by far the best way to honour those who made the ultimate sacrifice."
TCA welcomed guests Cllr Aigars Balsevics, Deputy Mayor of Wisbech, and Sue Putterill, one of our parent governors.
Students have been learning about Remembrance Day during tutor time and in the library, the Library Ambassadors have created a special display. Themed books have also been displayed prominently.