Everest climber discusses perseverance with students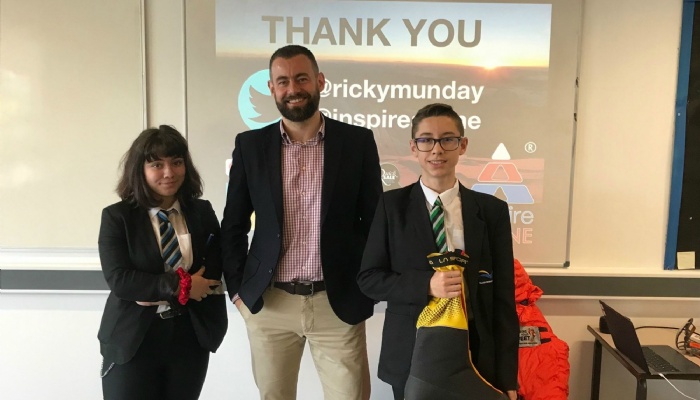 A mountaineer who conquered Everest on his second attempt spoke to a group of Year 10 students about resilience and mindset as he described his journey to the world's highest point.
During his 'Follow Your Dreams' talk, Ricky Munday shared his background as a child growing up on a council estate near Glasgow and how challenges in his life shaped who is he today.
He told students how, in his younger years, he was arrested twice, dropped out of university twice and was made redundant.
It was after he lost his job that things changed – Ricky completed the Marathon des Sables, a 150-mile ultra marathon in the Sahara desert known as the 'toughest footrace on earth'.
This, he told students, was the trigger which totally changed his mindset and gave him the confidence and focus to follow his dreams.
He told students that after qualifying as a chartered accountant, he spent four months working in an orphanage in Kenya. This led to him spending six years deployed in the aftermath of natural disasters, leading support functions for the Red Cross and other aid organisations in Sudan, Bangladesh, Pakistan and Haiti.
Over the last decade, Ricky, who is also a former member of the British Antarctic survey, has completed 18 mountaineering expeditions to six continents.
The key themes of his talk to students included perseverance, building resilience, goal-setting and overcoming adversity.