Profile on Library Ambassadors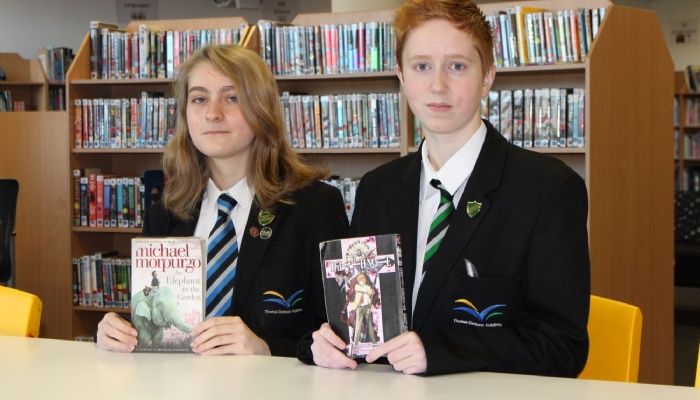 Two long-standing Library Ambassadors have spoken about their roles and the impact reading has on them.
Emma Cottingham in Year 11 is TCA's current longest-standing ambassador after signing up to the scheme in Year 8.
She is a familiar face in the library, helping Miss Robinson during lunch and break times.
"I was in the library so often, so when I started helping out I got the job as Library Ambassador," Emma said. "I enjoy the role because it gives you a little bit of responsibility and when the younger students ask for help, you feel like you're doing something and helping in some way."
Emma, whose favourite read is the manga book series, Death Note, said she reads every day and enjoys it for the escapism.
She said: "Reading takes you out of this world and puts you in another one. Some books are very relatable and you can learn from them.
"I would encourage younger students to try books out of their comfort zone and to pick books they like so they enjoy the reading experience, rather than it being something they dread."
Emma said her favourite moments during her time as a Library Ambassador include helping out at the Year 6 open evenings, when she dresses as the Death Note character Ryuk, complete with wings.
She said: "I also like it when the ambassadors take part in library celebrations and sit together, eating cakes and chatting."
Another long-standing Library Ambassador, Emma Parkinson in Year 10, also signed up in Year 8. She helps out every Thursday after school, sorting and re-stocking books, replacing covers and finding books for students.
She said the literacy competitions at TCA helped to spark her passion for reading when she started in Year 7.
Emma said: "I wasn't such a keen reader in primary school – I really got into it when I came here because of the friendly competitions like Accelerated Reader and the idea of getting points.
"Being a Library Ambassador helps you to learn more about books and the library, and seeing younger students getting involved in reading is rewarding. I find the library a relaxing and peaceful place."
Emma's favourite book is One of Us is Lying by Karen McManus.
There are a number of Library Ambassadors at TCA, and Miss Robinson is always keen to hear from anyone who may be interested in joining the team.