Students on track to achieve Core Values badges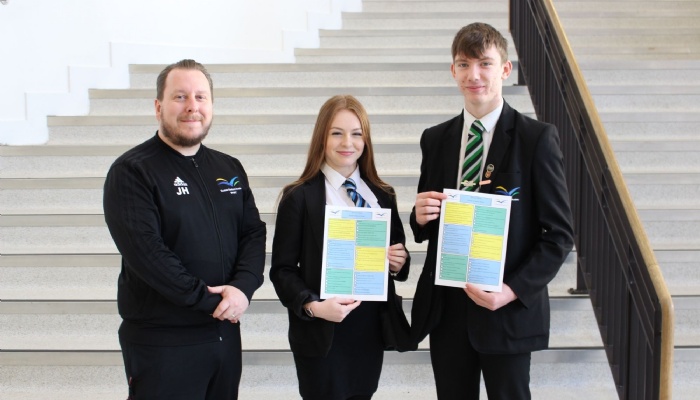 A number of students are on track to receive Core Value badges at Easter following the launch of the award scheme.
Badges will be awarded to students who complete a number of tasks in each of the five Core Values:
Integrity
Excellence
Creativity
Teamwork
Dedication.
Students need to complete four out of the six tasks within a Core Value to be awarded a badge and certificate. Those who achieve all five badges will be personally congratulated for their outstanding achievement by Principal Mr Scott.
Examples of some of the activities students can undertake include: delivering an assembly on a charity of their choice; attending at least one Session 5 per week for a whole term; helping to run an extra-curricular club; or achieving a gold badge for behaviour.
Students Maisie Macdonald and Connor Loughlin are both well on their way to achieving their first Core Value badge through their sporting efforts and participation in the Duke of Edinburgh programme.
"The awards are a good idea because it gives you a clear goal of the things you can achieve, and you're celebrated for doing it," Connor said.
"Lots of students will already be doing one or two of the things in each category so it's just about building on that and building on those skills. For instance, you might already be part of a team so these awards might encourage you to lead a team to achieve that Core Value.
"It's about getting out of your comfort zone and growing in confidence. Activities like these build skills that you need later on in life."
Maisie agreed, saying: "The good thing is that it includes things outside of school as well.
"I think taking part in extra-curricular activities helps to develop your social skills and how you work with other people.
"In the Duke of Edinburgh programme, you have to work together as a team to complete tasks."
Head of PE Mr Hooper, who is leading the programme, said that all students will be given the opportunity and support to achieve the awards.

He said: "Every day we see examples of our students' excellence and dedication to their learning, their school and the extra-curricular activities they participate in, and it is important that their efforts don't go unnoticed.
"We want this award system to build on what we already do at TCA to foster a sense of pride and ambition in all our students."
Click here for more details on the activities that can be completed to achieve the Core Values badges.