Children's Mental Health Week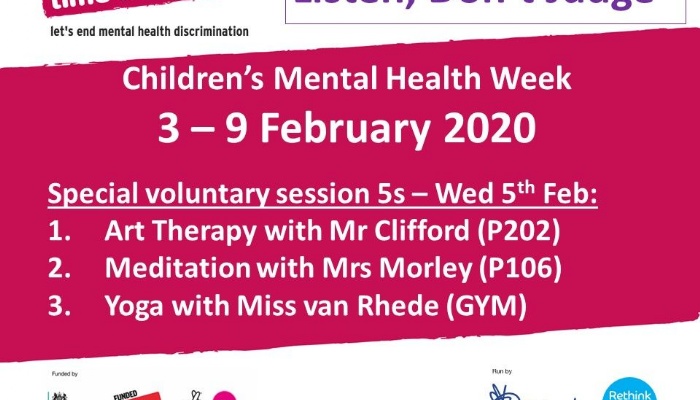 Students are invited to take part in meditation, art therapy or yoga during special after-school sessions on Wednesday to mark Children's Mental Health Week.
TCA's Mental Health Lead, Ms Morley, will also be talking to students in assemblies about Time to Change, a campaign to change the way people think and act about mental health problems.
It focuses on the idea of 'listen, don't judge', with students being encouraged to think about the private battles that others may be facing.
Ms Morley will go through some of the common causes of mental health issues as well as sharing information on where students can get help.
She said: "Mental health is just as important to learning as physical health and it's something that schools need to be looking at so students can get on with learning. Behaviour is very often linked to mental health, which affects not just that individual, but those around them.
"Anyone can have mental health issues – we all have mental health and it affects how we think, feel and act. Just because someone doesn't seem upset doesn't mean they're not suffering. It's about keeping an eye on each other.
"Young people today face unique pressures – they're exposed to so much information and sometimes they don't know what to do with it. My focus will be providing students with coping strategies and the right support so they can concentrate on their learning.
"Activities like art therapy can help with anxiety, and yoga and meditation can help to quieten the mind. Things like this can equip students with techniques they can use in lessons."
Wednesday's Session 5 activities are open to both students and staff and there are hopes the activities could continue if they prove to be popular.
Click here to view information on the sessions that are running, plus where you can get support for mental health issues.
The library is also supporting Children's Mental Health Week, with a display of fiction and non-fiction books which focus on mental health and wellbeing.
There is also a permanent display - Shelf Help – which comprises books that explore mental health issues.