Thomas Clarkson Academy achieves Good Ofsted grading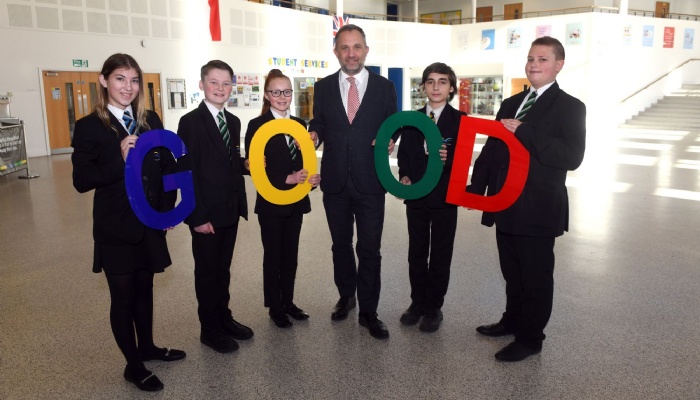 For the first time ever, Thomas Clarkson Academy has been awarded a Good Ofsted grading in a report that focused on the quality of leadership, positive relationships between staff and students, a curriculum 'that helps pupils to succeed' and a Sixth Form 'where students have the support required to be successful.'
The judgement, after a two-day inspection in January, says that the school is 'unrecognisable' compared to a few years ago and 'parents and carers, pupils, staff and members of the community comment on the positive changes at the school.'

The Academy received good grades in all five key areas inspected.

Inspectors found that leaders have made 'substantial improvements' to the quality of education and have 'high expectations' of all pupils, providing 'effective support' for those with social, emotional and mental health needs.

The report said: 'The school is well led. The dedication of leaders and governors to the school, the pupils and the local community is impressive … Leaders work hard to engage parents and gain the confidence of the community' and 'work effectively' with external agencies to support vulnerable pupils.

The report notes that 'teachers' subject knowledge is strong in many subject areas, particularly in maths and English', and the curriculum is 'ambitious' for those with special educational needs or the disadvantaged. The range of extracurricular activities was also highlighted, along with careers advice and guidance as 'almost all Year 11 pupils move on to further education, employment or training.'

The Sixth Form received praise with students valuing 'the distinctiveness of the sixth form while still feeling part of the school community … Students' attitudes are very positive. They maintain a strong focus on their studies.'

Pupils feel safe and well supported in school and are known as individuals by staff. Inspectors said that 'relationships between staff and pupils are very positive' and 'staff increasingly motivate pupils to work hard and try their best … Staff have high expectations of pupils' conduct … know their pupils well and can spot potential safeguarding concerns.'

Principal Richard Scott said: 'I'm over the moon that the community of Wisbech has a good state school for the first time in its history - a school that people can be proud of. This is a fantastic achievement and it is confirmation of the hard work by all the staff and students at TCA, with support from parents and the local community. It reflects our shared ethos that every single young person in Wisbech has the right to a good education delivered by their local school.

'We are beginning to have a significant impact on the lives of young people in this town and that is something which will continue. One of the things I am most proud of is that inspectors recognised the positive relationships between students and staff. I am also pleased that the number of parents who would recommend TCA has now more than doubled. We have benefited from invaluable support from the Brooke Weston Trust and from Executive Principal Anne Hill.'

Secondary Executive Principal Anne Hill said: 'The Good Ofsted judgement for Thomas Clarkson
Academy has been hard-fought and hard won by Richard and the TCA staff who have tirelessly devoted hours of expertise to improving the school and the fortunes and aspirations of its students, a journey which I began as its Principal in 2016. I am so proud that Thomas Clarkson Academy has been recognised for the massive transformation achieved in just a few short years.'

Brooke Weston Trust CEO Dr Andrew Campbell said: 'We are absolutely delighted with this judgement, which demonstrates the incredible progress that has been made.

'I'd like to pay tribute to the huge talent and determination of all the staff, especially Richard Scott and Anne Hill, whose vision, determination, commitment and leadership has taken Thomas Clarkson Academy to a level never before seen in its long history.

'I'd also like to thank staff from across the Trust who have offered their expertise, particularly when Thomas Clarkson Academy joined our family of schools and needed support and professional intervention. They, and many others, shared our ambitious vision of what the school could, and should become.

'This level of performance and success at Thomas Clarkson Academy has come about only through an unrelenting commitment to improve. I'd like to thank partners, such as the County Council, Local Authority, District Council, politicians and supporters who all shared our faith and vision in wanting this school to succeed and be a hugely positive force. This is undoubtedly a 'Good' day for Thomas Clarkson Academy and an equally a good one for the town of Wisbech itself.'