Paris trip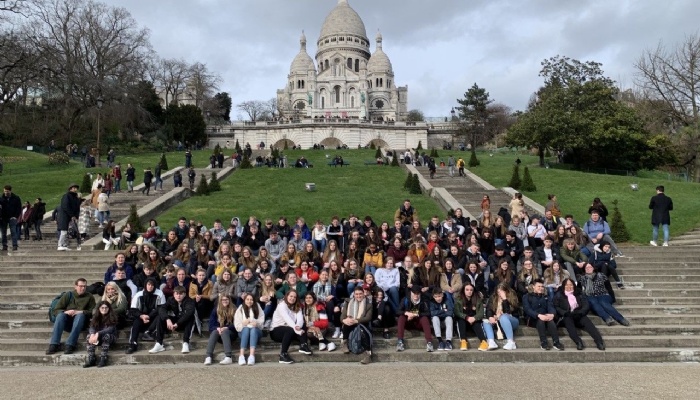 TCA saw its largest group of students yet embark on a non-stop fun-filled trip to France this half-term holiday, with 103 students and 12 members of staff spending five days exploring Paris and its surroundings.
Nausicaa Sea Life Centre, one of Europe's largest aquariums, was a massive hit thanks to the thousands of fish, manta rays, sharks, and penguins that hooked everyone's interest.
An entire day was spent at Disneyland Paris where students enjoyed everything the park had to offer. From calm parade displays to the exhilarating HyperSpace Mountain roller coaster, students were nothing but smiles – not even the downpour of rain in the evening could stop them from enjoying the firework and light show at the end of it all. An absolutely fantastic day had by all!
Other activities of the trip had students really getting their history and culture lessons in too, not to mention their steps! The Palace of Versailles and the Louvre Museum gave them once in a lifetime opportunities to see where hundreds of historical figures have walked before them and to see one of a kind paintings (the Mona Lisa!) and statues. Students came away with a greater appreciation for the significance of where they were and made very positive comments about the experience.
Students also got to wander around other famous Parisian landmarks such as the Sacré-Coeur Basilica
in the old Montmartre neighbourhood. Here, they wandered through classic French markets and shops and treated themselves to delicious crèpes. A trip to the very top of the Eiffel Tower was also a must. Nearly 700 steps up and students still managed to maintain high spirits and enthusiasm – the views, they agreed, were well worth it!
To wrap up the trip, on their final evening students enjoyed a classic French dish: les escargots (snails)! Leaving Paris with bellies full also of pain au chocolat and heads filled with endless stories, students were unanimous in having had fun throughout the trip. "Thank you for an amazing experience the last few days…it was fun and so glad I went," said one tired but happy student on their return to TCA on Sunday night.
Report by Miss Willows