Students graduate from the Scholars Programme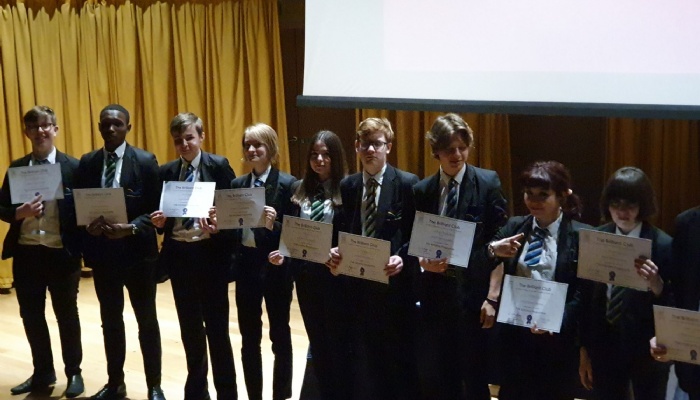 Students who took part in a special programme to introduce them to university-style learning have been praised by their mentor for their attitude and enthusiasm.
The group of higher-ability students recently graduated from the Scholars Programme, a scheme ran by The Brilliant Club which aims to widen access for outstanding students to the country's top universities.
Year 10 and Year 12 students have been having weekly tutorials with a PhD student, Natalie Lamb,
exploring the topic 'From Distant Rivers to Your Kitchen Sink'. They have studied water purification and the effect of purification on the environment, completing the programme with a final assignment of 2,500 words. The essays were marked in university style (First, 2.1 etc) and students recently attended a special graduation ceremony at the University of Cambridge.
Ms Lamb, a PhD student from the University of Sheffield and Anglian Water, explained how the programme works.
"The learning style of The Brilliant Club is totally different from the teaching experience pupils would have received before in school," she said. "Not only are the pupils doing a super-curricular topic, a subject matter that real researchers are discovering more about every day, but they are learning in a way that really gives them a taste of university life.
"We work in small groups and the pupils learn by debate. They are encouraged to form their own ideas and learn by discussing it with their peers. This is exactly how we teach in universities."
Ms Lamb praised the attitude demonstrated by TCA students, saying they'd achieved her highest average grade for a class. Two students achieved a First for their essays.
"I was really impressed by the pupils at Thomas Clarkson Academy," she said. "The students were really ready to give everything a go and embraced everything I threw at them, whether it was creative work with Play-Doh or engineering conundrums with pipes.
"At the beginning of the course they couldn't name the chemicals used to treat water but at the end they were crafting 2,000 word essays on their own opinions on their usage. A really impressive feat. I wish them all the best in future - I really think they will go far."
TCA's Head of Science, Mrs Raj, said: "It's been really useful for our students to learn new skills such as research skills, as well as developing their resilience when it comes to completing long assignments.
"Students' confidence improved as the programme went on and they were getting on with the work independently. We had a very good, positive response from them."
Year 12 student Josh Watson, who is taking A levels in biology and chemistry along with BTEC sport,
commented: "It was good to do something different and taking part in the programme has helped me to understand how to structure an essay and how to reference. That's important to me as the subjects I'm taking are not essay-based. It was interesting and it will be useful to apply outside knowledge in school."
Josh said Ms Lamb was approachable and explained things in a clear way.
Mrs Raj said she is hoping that a group of Year 8 students will take part in a similar programme during the summer term.