Author visit sparks creativity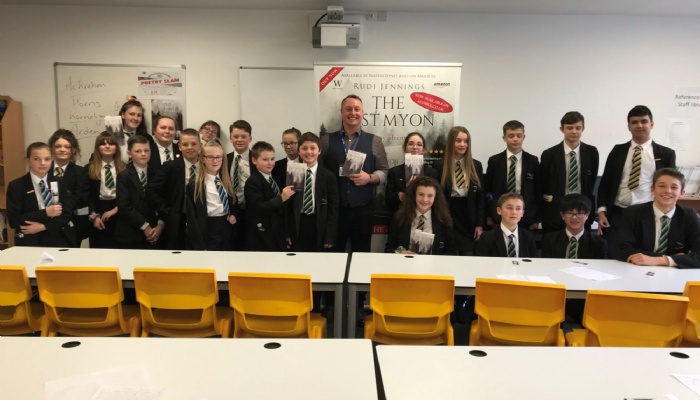 Students were encouraged to believe in themselves, dream big and never give up by an author who visited TCA before school closed.
Rudi Jennings, who wrote The Last Myon, spent time talking to groups of Year 7 and 8 students before running creative writing workshops with them.
He spoke about how he got into writing, how to create characters and how students can draw on their own experiences for inspiration. He also shared the idea of withholding some details so you don't give everything away at the beginning of your story, or in your first book.
Rudi then challenged students to come up with a back story for one of the characters from his book, encouraging them to be descriptive in their writing, and there were lots of volunteers when Rudi asked students to read their work aloud.
He later told students that he finds writing the blurb for the back of his books one of the hardest things to do.
Rudi also met with a Year 10 student who is keen to become an author. They discussed what she is currently writing and Rudi gave her lots of encouragement.
Rudi, who spent the majority of his childhood growing up in the Norfolk countryside, said: "Inspiration is the true definition of success and the students at Thomas Clarkson Academy are inspirational, they are destined to be successful."
See more photos from this event.
About The Last Myon:
The Last Myon is a story of fantasy adventure, revenge and an individual's total unwillingness to submit or to fail, battling against overwhelming natural elements and a group of hardened, sadistic creatures who will stop at nothing to succeed in his capture and slavery.
In an everlasting winter world, Ackrehm, the last of his Myon kind, must fight for his life, sustaining multiple injuries along the way and still demonstrating he truly is a force to be reckoned with.
Struggling with exhaustion, both mentally and physically, will he manage to overcome, or will he fight or flee?