Ofsted praise Thomas Clarkson Academy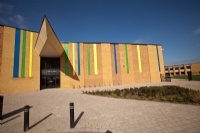 The leadership of our academy has been praised as good by Ofsted.
The leadership of our academy has been praised as good by Ofsted.
School inspectors visited last month (January 2014) and found the school to be making progress across the board.
Principal Clare Claxton said: "The findings of the inspection show the academy is firmly on the pathway to an Ofsted grading of 'good'.
"Improvements in teaching, behaviour and attendance were all recognised by the inspectors who saw the incredible hard work that is going on at Thomas Clarkson Academy by students and staff.
"Since the academy opened in June 2012 we have put measures in place in all areas to bring up standards and we are delighted that this has been deemed by Ofsted to be working.
"I would also like to congratulate students, staff and members of the many community groups in Wisbech who have supported TCA in achieving this improvement."
Areas picked out for particular praise by inspectors, were the leadership by senior staff, governors and academy sponsor the Brooke Weston Trust; the steady improvement of teaching along with the tailored training programmed for staff and the academy's support for students with special educational needs and for Year 7 students who join with limited English and maths skills.
The report said: "The governing body, the academy sponsor and the senior leaders have a clear and consistent vision for improving the quality of education in the academy and the wider community.
"Recent improvements to the quality of teaching, achievement and behaviour show that the senior team have the capacity to continue to have an impact on improving the academy."
Improving attendance and behaviour; students' pride in their school and positive relationships between staff and students were also commended.
Areas that were deemed to need improvement, were all recognised as having measures in place to do so.
The academy now has two years to improve to a 'good' rating.