Meet the new Year 7 Raising Standards Leader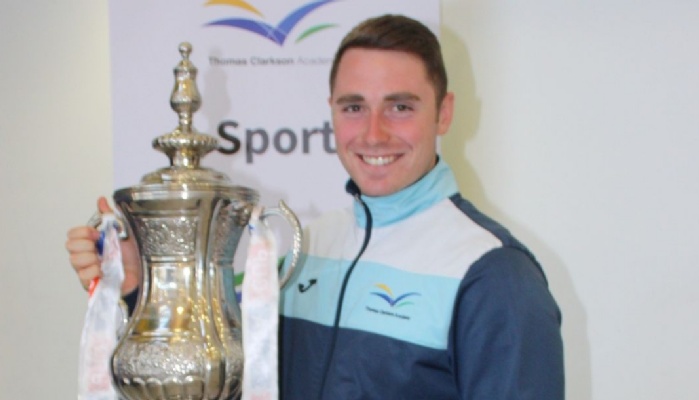 The new Raising Standards Leader for Year 7, Mr Chamberlain, is looking forward to meeting our new students when they start at TCA.
The role of a RSL is to monitor students' attainment and progress, and to ensure interventions are in place for those who may need extra support.
Here we find out a little more about Mr Chamberlain, who is a PE teacher, and his hopes for the new Year 7 group.
Tell us about your time at TCA so far:
I have worked at TCA for two years now. Prior to that I worked in Essex as a trainee teacher after graduating from Sheffield Hallam University.
What are you looking forward to in your new role?
I am looking forward to watching our new students develop and grow in all aspects over the next five years. I hope I can be a positive role model for our new starters and be that supportive person who helps to challenge and prepare them for the future.
What are your hopes for the new Year 7s?
I have high hopes for us! Such a big cohort being welcomed to TCA can only be a positive starting point - more opportunities to make friends, make memories and enjoy school life. As they say, these are the best days of your life! I want students to start with a fresh and positive mindset, taking any opportunity that comes their way.
What can Year 7s expect from you?
Everyone knows I am super competitive and have high expectations of myself, therefore I have the highest expectations of those joining in Year 7! I am always around school with a smile on my face and am available for a chat any time. I am here to support our students with any aspect of school life and ensure they enjoy their time with us.
How will you help them to settle in?
We are currently working on some projects to ensure the transition process runs as smoothly as possible. Look out for some booklets coming your way to help me and the rest of our staff get to know you, which is a great starting point for our fantastic tutor team. I will be around as much as possible during your first few days and rest assured I will be there to support you every step of the way.
Describe yourself in three words:
Competitive, confident and composed.
What's your favourite sport?
I play football and support Manchester United (no judging - it's a long story). I also play cricket and golf on a regular basis.
What achievement are you most proud of?
I won the county cricket performance of the year in 2016, which was a proud moment. I play with a fantastic group of players and our team are very successful, which has helped me.
Best moment at TCA?
Best moment has to be our recent Ofsted rating. Although I have only been at TCA for two years, it is clear how hard everyone has worked for several years before that to get to where we are today. The school is growing and that is down to the fantastic team we have here.
What makes you proud of TCA?
I joined TCA to help make a difference and join the journey that the school is on, and I have been extremely proud of what I have achieved as an individual, and what the school has achieved. TCA has a real community spirit to it and a great atmosphere in school. We have such friendly staff and students which ensure the school days are always worthwhile and enjoyable. TCA really is at the heart of the community.