First crop of students begin their 'green' studies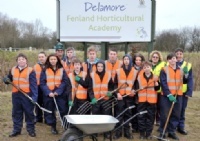 The first crop of Thomas Clarkson Academy students have begun their 'green studies' at a pioneering horticultural centre.
Picture courtesy of Steve Williams and the Wisbech Standard
The first crop of Thomas Clarkson Academy students have begun their 'green studies' at a pioneering horticultural centre.
The Delamore Fenland Horticultural Academy opened in Wisbech St Mary last summer and at the start of this year the first batch of academy students picked up their trowels and began getting their practical lessons.
They are studying for the Royal Horticultural Society's Level 1 qualification under the tutelage from experts from Manea School of Gardening.
The aim of the centre is to train and inspire a new generation of horticulturalists, with further opportunities of apprenticeships and further education.
The course – which lasts until the end of the academic year in July – aims to see the student learn the gardening basics, such as sowing, potting and planting and then progress to growing their own plants and produce that they can sell or use within the academy's kitchen. The students spend one day per week at the horticultural centre, with access to the state of the art learning facilities.
This week (February 14th) the students moved out of the growing glasshouses and began to plant in their own plots at Delamore.
Year 10 student Paige McDarby, who is part of the first cohort along with 13 other TCA students, said: "I have really enjoyed it, particularly the practical side of things. It is great that we will get a qualification and if we progress onto the Level 2 qualification it will be equivalent to a GCSE."
Alan Mitch from Manea, who along with colleague Mary Larham has been teaching students the green skills, said: "The students have progressed well – from very little knowledge to now sowing and planting.
"You can really see the satisfaction that they get out of doing the practical tasks. This is a great opportunity for the students and they could well be on the first steps towards a career.
"The horticultural trade is very wide, ranging from working within a nursery or garden centre to landscaping and then growing crops within a farm environment."
Thomas Clarkson Academy's Careers Advice Information and Guidance Ambassador Hetty Cliss said: "This a great opportunity for our students who are gaining not only a recognised horticultural qualification, but also skills for life. There is a real shortage of qualified horticulturalists in Fenland so it is a chance for them to gain insight into a potential career path, with excellent opportunities for progression. The students are thoroughly enjoying the programme and look forward to further developing their practical skills."
The horticultural centre is a joint initiative with Delamore Young Plants, Fenland District Council and the Cambridgeshire Enterprise Partnership.
Delamore's HR Manager, Adam Parry said: "We're absolutely delighted to be working in partnership with both Thomas Clarkson and the Manea School of Gardening. This is a real opportunity for young adults to develop their horticultural and workplace skills in a commercial environment, whilst at the same time grow their own successful futures. This is also a real opportunity for Delamore to continue our aspirations in bring young people into a raw Fenland industry, with an aim of filling the current industry 'green skills gap'. We hope that we will stage engaging with many of these keen hands on students, with a hope one day they could well come onto our apprenticeship programme and onwards within our business".