Poet Laureate gives talented students writing tips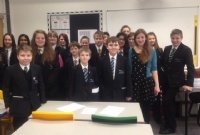 Leanne Moden held a workshop with a group of Gifted and Talented students this week and taught them about the art of short story writing.
The celebrated poet gave the students the benefit of her writing experience and took them through their creative paces when she visited on Tuesday (February 25th).
The students were given a series of activities to do during the workshop which concentrated on plot and description and how to build characterisation.
Leanne, who will hand over the Fenland Poet Laureate accolade to a successor on March 19th, said: "I was incredibly impressed by the ideas that students came up with. They were very enthusiastic and had a real passion for writing."
The poet, who comes from Wisbech, has only been writing and performing poetry since 2010, although has written since she was a teenager.
English Teacher Lisa Lockyer said: "The students who attended this workshop really did our school proud with their excellent ideas and outstanding effort."