Celebrating Empathy Day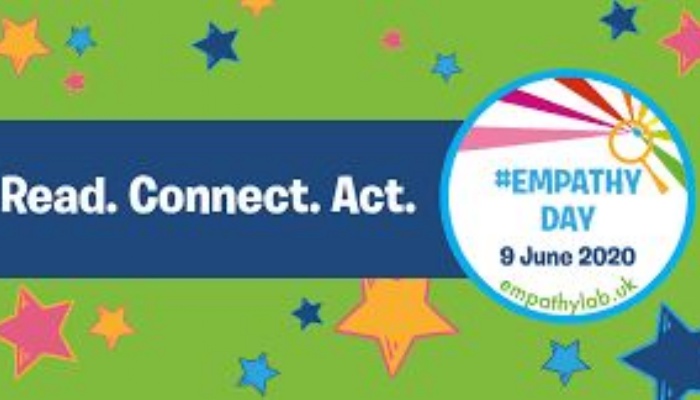 Students are encouraged to join in with online events and home-based activities to mark Empathy Day on June 9th.
The initiative was founded in 2017 by not-for-profit EmpathyLab, who are on a mission to inspire the rising generation to drive a new empathy movement.
The organisation says: "Empathy is a vital human force which has come into sharp focus during the pandemic. Right now, we've never needed it more.
"The good news is that it's a skill you can learn, and Empathy Day on June 9th aims to help everyone understand and experience its transformational power. It looks forward to a future society in which empathy is much more central."
The day focuses on using books to step into someone else's shoes. Scientists say that we can train our brain with stories – the more you empathise with characters, the more you understand other people's feelings.
Click here to view the timetable of events.
According to the Reading Agency, "there is strong evidence that reading for pleasure can increase empathy, improve relationships with others, reduce the symptoms of depression and improve wellbeing throughout life."
Among those taking part in the timetable of events include authors popular with TCA students: Cressida Cowell, Sarah Crossan, Malorie Blackman, Jo Cotterill, Robin Stevens, Onjali Rauf, Sita Brahmachari and Muhammad Khan.
What is empathy and why does it matter?
"What it means to empathise: How would I respond if I were in that situation? What's it like to be in that person's shoes?
"To ask such questions is to empathise: to look at the world from another person's point of view; to share that person's feelings and emotions. We can feel empathy towards individuals and groups who are strangers, such as those we see on the news or read about in the papers.
"In such situations, empathy is useful because, instead of rushing to judgement, we seek to understand what motivates others and how best to respond. Empathy is therefore a crucial element in helping to understand global conflicts as well as those within our own societies."
- THE BRITISH COUNCIL
The latest Read For Empathy Book Collections feature 50 superb children's and young adult books;
with 17 of those aimed at 11-16 year olds.
Click here for details and a brief synopsis of each book.
Empathy Read Aloud
Try listening to some wonderful empathy boosting stories and poems here.

TCA's librarian Miss Robinson said: "I particularly like what the author Rebecca Westcott says about a book being "a window into the world of others but also a mirror". It is so important to have access to books with characters or settings you are familiar with that allow you to reflect on your own situation and experiences, and equally important to be able to be transported to another life or world just by reading. It gives you the chance to walk in someone else's shoes, and start to understand another person's feelings, or experiences, and to be able to build empathy with characters that are very different to you."
Check out the National Shelf Service on YouTube for their latest selections for Empathy Day.
Cambridgeshire Libraries have a selection of their recommendations available as eBooks on RBDigital. Toffee by Sarah Crossan is also available as eAudio from BorrowBox.

Listen In titles: https://bit.ly/2VIkbp3
For more details on Empathy Day visit https://www.empathylab.uk/empathy-day.