Black Lives Matter: Recommended reads and resources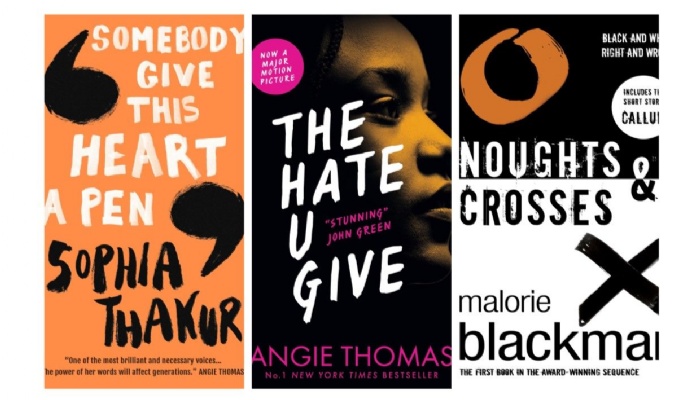 Following the death of George Floyd in America and the subsequent worldwide Black Lives Matter protests, we have put together some resources to help students understand and recognise the issues of racism, inequality and discrimination.
Librarian Miss Robinson and English teacher Miss Jones have put together some of the wider reading recommendations, author interviews, documentaries, films and other related resources that will help students understand more about other people's experiences, and why the Black Lives Matters protests are happening.
How can I be part of the solution?
The British Council says: "Research has shown that we are more likely to feel empathy for those who are similar to us. However, to empathise with others from different backgrounds takes a greater effort of imagination.

"You can't experience everything that happens to another person, but you can use your imagination to give you their perspective.

"Stories, books and films are opportunities to practise empathy. What do the characters think and feel? What motivates them to behave in particular ways? The Empathy Library has reviews of hundreds of novels, children's books, feature films and videos on empathy.

"Read extensively and aim to focus on the works of marginalised people to better understanding the emotions, behaviours, and intentions of others."
Author Alex Wheatle supports this idea, saying: "Discover the unfamiliar, too.
"For me, true reading diversity is about readers discovering stories and narratives that they may be unfamiliar with."
He adds that it would be a great reading world if any child could "find a story where they could see themselves reflected, but also discover a story where all their classmates' experiences are mirrored, too."
Black books matter
It is important to read a diverse range of books, including those with Black characters or by Black authors. Sometimes you will read books with characters that are very similar to you or have had similar experiences to you, which is important in allowing you to reflect on those experiences. Reading books with characters that are very different to you is a great way to put yourself in someone else's shoes. It helps you to understand them, their experiences and can immerse you in another world.
The following is a list Black Books Matter recommended reads which are available now as e-books via Cambridgeshire Libraries:
Noughts & Crosses – Malorie Blackman
Knife Edge - Malorie Blackman
Checkmate - Malorie Blackman
Double Cross - Malorie Blackman
Crossfire – Malorie Blackman
Somebody Give This Heart a Pen – Sophia Thakur
The Hate U Give – Angie Thomas
On the Come Up – Angie Thomas
Rebound – Kwame Alexander
The Poet X – Elizabeth Acevedo
Patron Saints of Nothing – Randy Ribay
Long Way Down – Jason Reynolds
Everything Everything – Nicola Yoon
What Momma Left Me – Renee Watson
Non-fiction books not specifically aimed at children:
Becoming – Michelle Obama
Dreams From My Father – Barack Obama
More recommended reads:
Lucas Maxwell's Black Lives Matter secondary school booklist
BookTrust's booklist of historical stories from Black History around the world
Coretta Scott King Book Award Winners: books for children and young adults
National Literacy Trust's booklists:
file:///N:/Downloads/Book_list_for_ages_9-12.pdf
file:///N:/Downloads/Books_13_-_16.pdf
file:///N:/Downloads/Book_list_for_ages_16.pdf
Wider reading/viewing
The author of This Book Is Anti-Racist, Tiffany Jewell says: "Anti-racism is for everyone". Read more about what she has to say, and an extract from This Book Is Anti-Racist
Read more about award-winning author Jason Reynolds
Award-winning author Angie Thomas talking about One The Come Up & The Hate You Give
Interview with award-winning author Malorie Blackman, Noughts and Crosses series. Watch the series on BBC iplayer: https://www.bbc.co.uk/iplayer/episodes/p082w992/noughts-crosses
Award winning author Kwame Alexander reads aloud from his illustrated poem The Undefeated - written to commemorate the birth of Alexander's daughter and the inauguration of Barack Obama in 2008. The Undefeated remembers unforgettable, unafraid and unbowed, famous and overlooked figures from black history.
Five powerful anti-racism speeches in response to George Floyd's death
Six key events in black history you may not know about
Here is an article that explains what events led to the protests, what happened to George Floyd, and what some of the reactions have been around the world
Stephen Lawrence has been mentioned in the current news reports. On 22 April 1993, at the age of just 18, Stephen was murdered in an unprovoked racist attack. He didn't know his killers and his killers didn't know him. After the initial police investigation, five suspects were arrested but not convicted. A public inquiry into the handling of Stephen's case was held in 1998, leading to the publication of the Macpherson Report, which has been called 'one of the most important moments in the modern history of criminal justice in Britain'. Read more about Stephen and his legacy, the Stephen Lawrence Charitable Trust and watch a Newsround report on Stephen Lawrence.
A Newsround video report from 2015 called 'Growing up Black in America'
Newsround's report gives an overview of 'Black history in the United States: Key moments from slavery to George Floyd'
You may have seen black squares being posted on social media on 'Blackout Tuesday': this article explains what Blackout Tuesday is and why it took place
De'Graft presents a Newsround special programme all about fairness, protest and people coming together to reject racism
There have been worldwide protests, including many taking place cities in the UK. There was a peaceful protest held in the nearby city Peterborough.
Read about the powerful Peterborough anti-racist mural that has made an impact in the USA
Pop star Fleur East composed a Black Lives Matter rap roulette
Ideas of things to watch (some are also available as a book)
Explained: The Racial Wealth Gap (Season 1) (15) - documentary
Time: The Kalief Browder Story (15) – documentary
When They See Us (15) – film based on a true story
13th (15) – documentary
Who Killed Malcom X? (12) – documentary
Dear White People (15) - film
LA 92 (15) – documentary
American Son (15) - film
The Hate U Give (12) – film
I Am Not Your Negro (12) – documentary
Just Mercy (12) – film based on a true story
Hidden Figures (PG) – film based on a true story
12 Years a Slave (15) – film based on a true story
Selma (12) – film based on a true story
Remember the Titans (PG) – film based on a true story
The Boy Who Harnessed the Wind (PG) – film based on a true story
Hidden Figures (PG) – film based on a true story
Hard Lessons (PG) – TV drama based on true story
Becoming (PG) – documentary Michelle Obama
Queen of Katwe (U) – film based on a true story
The Color of Friendship (PG) – TV drama
The Color Purple (U) - film
Betty & Coretta (12) – film based on a true story
Ruby Bridges – film based on a true story
Akeelah and the Bee (PG) - film
Jane and Emma (PG) - film
Glory Road (PG) - film
The Secret Life of Bees (12) - film
3 ½ minutes. Ten Bullets (15) – documentary
The House I live in (15) – documentary
Quest (12) – documentary
Do Not Resist (15) – documentary
Sitting in Limbo - drama based on the Windrush scandal