Year 10 and Year 12 return to school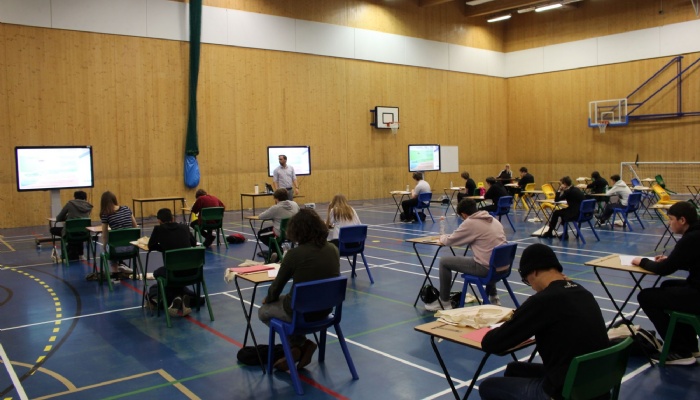 This week has seen the return of Year 10 and Year 12 and it was a significant moment for students who have not been in school for 12 weeks.
For Year 10, a quarter of the year group has been in each day, while Year 12s have been organised by subject. Year 10s are being taught in the sports hall while Year 12s have been using double classrooms.
We spoke to a number of students about their experience this week and how they have felt about being back in school.
Justina Kakstyte in Year 12 has been into school three times this week.
"I was excited to get out of the house and see my teachers again for some face-to-face teaching," she said. "There are hand sanitisers everywhere and the social distancing is quite strict so I feel okay being here.
"What I'd say to other students is, everyone keeps their distance. I haven't felt worried. The teaching has been really useful."
For Josh Watson in Year 12, today was his first day back in school.
He said: "I had mixed feelings about coming back but I thought I might as well try it and see how it goes. It's looking good – the measures for social distancing are good and the teaching is going well. It's better having that one-to-one teaching and you're more motivated. It's also more social being at school."
The group of Year 10 students who returned on Thursday also said they felt comfortable with the social distancing measures in place.
Declan Foster said he was ready to come back to school, saying: "It's made me realise how much I've missed school and seeing friends. Coming back in made me feel a bit nostalgic. It's not exactly normal but it's more engaging being with teachers and friends than being at home."
Hollie Dixon said: "I wasn't concerned about coming back to school, I was ready to come back. It's been pretty good and it makes a difference having a teacher – you can procrastinate at home!"
Tom Green said he was a bit nervous about what to expect but said: "It's felt okay. It's very quiet!"
Teachers have commented on how positively students have reacted and how focussed and well-behaved they have been.
Keyworker children who have been coming into school for the last few months made a 'Welcome back' banner for returning students.