History teacher talks at virtual teaching conference on representations of heritage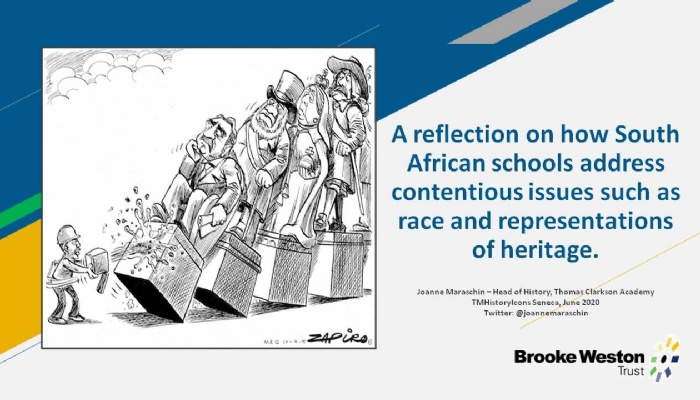 TCA's Head of History spoke at a virtual teaching conference about the importance of teaching British history within the context of world history during her talk on representations of heritage.
Mrs Maraschin, who spent 18 years teaching in South African schools, was selected to speak at Seneca's Virtual History TeachMeet on Saturday, delivering a talk entitled 'A reflection on how South African schools address contentious issues such as race and representations of heritage'.
In light of the recent Black Lives Matter protests and the removal of statues of historical figures, Mrs Maraschin said it is vital that students feel comfortable discussing these issues.
Mrs Maraschin, who as a child attended school in South Africa when black and white students were integrated for the first time, said it was important that students understand that history can be seen as being constructed by the systems in power, whether that is political, religious or economic.
She talked about how one of the main differences between the English and South African history curriculum is that a key learning objective in South Africa is for students to engage critically with issues of heritage and public representations of the past.
Using the Middle Ages as an example, Mrs Maraschin said one way of addressing the idea of a Eurocentric curriculum would be to look at how Europe compared to other powers during this period and examine how other civilisations contributed to world heritage.
Mrs Maraschin also said that exploring the negative and positive legacies of empires would naturally lead students to ask questions about the kingdoms, dynasties and cultures which were in place before the arrival of overseas empires.
Listen to Mrs Maraschin from 1 hour 34 minutes here.