Connor finishes incredible 500-mile challenge with a marathon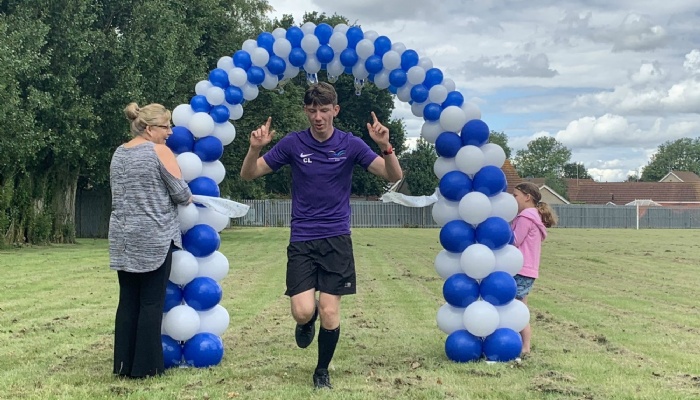 Connor Loughlin, who set out to raise £500 for the NHS by running 500 miles, completed his incredible 12-week challenge today – and finished with a marathon.
Back in April, the Year 10 student was inspired by the efforts of Captain Tom Moore to raise money for the NHS as the country faced the onset of the COVID-19 pandemic.
He set himself the challenge of covering a distance roughly the equivalent of running from Wisbech to Dumfries and back, and he got off to a flying start with several half-marathons.
However, a foot injury hindered Connor's efforts and he had to slowly build back up to being able to manage distances of 8 to 10 miles a day.
This week, he'd already ran 80 miles before setting off at 7am this morning to run the final 26.2 miles. He was joined by his friend Josh, who biked alongside him and supplied him with water.
Crossing the finish line at TCA to cheers from his family, friends, neighbours and teachers, Connor described the feeling as 'amazing'.
"It felt amazing that I had completed it and raised so much money for the NHS," he said, "and I was relieved that I wouldn't have to run again! It was a great feeling, especially having people there when I finished. I'll definitely sleep tonight!"
Initially, Connor was going to run a mile for every pound donated, but then he decided to make his challenge more ambitious. His mum Tracy, who's Scottish, suggested the 500-mile challenge to link in with The Proclaimers' famous 500 miles song.
Connor said: "There were times when I thought, how long will this take? After I injured my foot, I had to take it really slowly coming back and I could only run 3 or 4 miles each time, so I thought it would take ages. It's quite miraculous that I've gone from having a foot injury 10 weeks ago to running a marathon."
Principal Richard Scott paid tribute to Connor's epic challenge after presenting him with a trophy,
saying: "Connor and his family can be extremely proud of the level of effort he has put in on behalf of his community.
"Connor has seen the sacrifice made by so many, particularly in the NHS, in the fight against this terrible disease and decided to do something about it. It says a lot about his strength of character and the kindness he has shown towards his community.
"We are all extremely proud of him."
Head of PE James Hooper added: "Connor decided to raise money for the NHS by doing a monumental 500-mile run. During this difficult time for our nation, his efforts have helped unite the local community and highlight how important our health service is and what a fantastic job they do for us all.
"We at TCA are very proud of Connor and celebrate this fantastic achievement with him."
So will Connor be out running again anytime soon?
"I think I'll take a little break," he said.
At the time of writing, Connor had raised just over £1,100 - click here to donate to his Just Giving page.