The Great Brooke Weston Bake-Off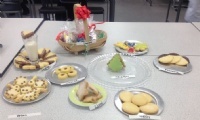 Budding bakers have begun their quest to win The Great BWT Bake Off.
Budding bakers have begun their quest to win The Great BWT Bake Off.
Our enthusiastic student bakers will be given six baking masterclasses and take part in six baking challenges over 12 weeks.
The competition began at the start of the month (March) with the first baking masterclass on making basic shortbread biscuits and on Wednesday the group of nine students baked and presented their own creations.
Throughout the weeks a baker will be eliminated until at the end of week 12 the TCA bake off winner is crowned. They will then go through to the grand final and compete against the winners from other schools within the Brooke Weston Trust group.
TCA Restaurant Manager Maddy Austen, who is running the masterclasses, said: "Our first masterclass for our students went really well. All students who are taking part have an interest in cooking, although some have more experience than others
"The masterclass gives them the base to work from but if they want to win they have to enhance the recipe and do more with it.
"I was really impressed with their creations and there were some excellent presentation ideas."
The remaining masterclasses will show the students how to make scones, a tray bake, cupcakes, mini tarts or pies with sweet or savoury pastry or fillings and miniature bread rolls.
The competition is for students in Years 7 to 10 and during each baking challenge they will be judged in three areas – presentation, taste and hygiene.
Students can win up to 10 points in each area during each challenge.
During the grand final they will take part in a whole day of challenges when they will make everything they have learned during the course of the competition to create an afternoon tea.
They will be judged by a panel of independent judges from the catering industry.