Profile on Assistant Principal Mr Siracusano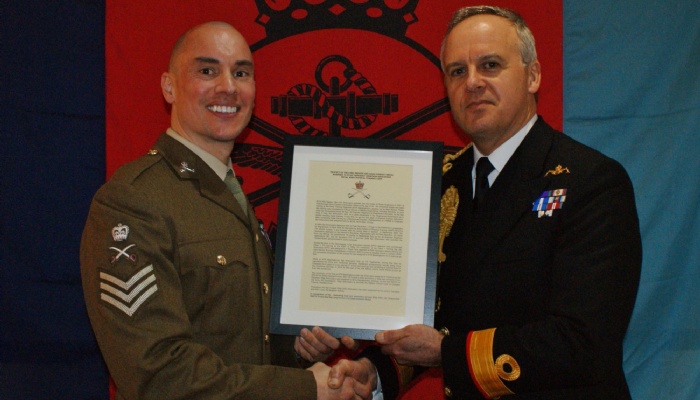 Remembrance Day was particularly significant for Assistant Principal Mr Siracusano, who served with the Royal Engineers and the Royal Army Physical Training Corps before he entered the teaching profession.
Mr Siracusano, who is Assistant Principal for behaviour, attendance, personal development and welfare, grew up in Wisbech and is a former pupil of the Queens School and the College of West Anglia.
In 2001, Mr Siracusano enlisted into the Corps of Royal Engineers at Peterborough Army Careers Information Office. He completed phase one basic training at the Army Training Regiment Bassingbourn, passing out as Best Recruit, and phase two training at 3 Royal School Military Engineering, Gibraltar Barracks. On completion of his training he joined 39 Engineer Regiment at Waterbeach Barracks.
Mr Siracusano attended the ASPT (Army School of Physical Training) in 2005, completing All-Arms PTI
course number 5 and finishing with the award Best in Section. In September 2005, he deployed on Op Herrick to Kandahar, Afghanistan with 34 Field Squadron. On return from Op Herrick, he then started 18 months of Regimental Duty as the 39 Engineer Regiment Gymnasium and promoted to Lance Corporal.
After passing intensive selection, Mr Siracusano transferred into The Royal Army Physical Training Corps 2008. On successful completion of this course, he was assigned to the 1st Royal Tank Regiment, Army training Regiment Bassingbourn, Hereford, Army Headquarters, and finished his career as the Military Clinical Lead at Complex Trauma, Defence Military Rehabilitation Centre, Headley Court.
While serving in the Army, Mr Siracusano completed his Batcher of Science degree earning a 1st in class award, then subsequently left the Army to train as a science teacher at the University of Cambridge. He has since completed a master's in Education Leadership School Improvement post-graduate award at the University of Cambridge.