Eco Club to create vegetable garden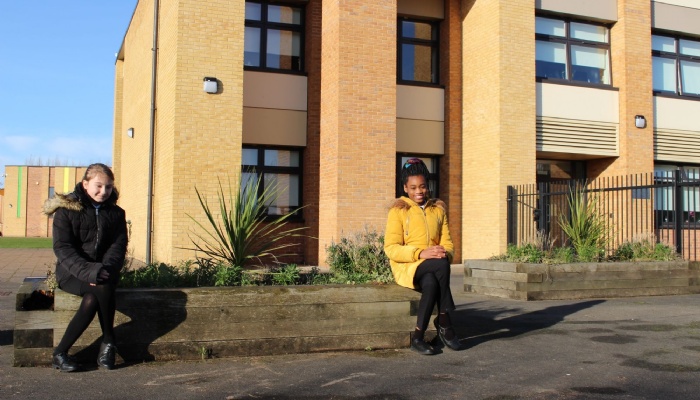 Younger members of TCA's Eco Club are hoping to grow their own produce on site for use in the school restaurant.
The after-school Eco Club launched this September to years 7, 8 and 9 and the Year 7 group has already come up with a project – the transformation of some planters into a mini allotment.
They are currently in the process of writing to various local companies to fundraise for tools to kickstart their project. It is hoped the fruit and vegetables they grow can either be used in the restaurant or sold to staff to pay for more seeds.
The group had only met once before the national lockdown meant after-school clubs were suspended, but members have remained enthusiastic and developed their ideas on Teams.
Last week the group elected its co-presidents - Deborah Akinrefon and Chloe Sargent (pictured above). They are both very keen to work on environmental issues, with Deborah saying: "I just like nature – it's beautiful and I just want to do what I can to help.
"I made a recycle bin at home and I think that's one small change people could do to make a difference – recycle more. If you grow out of clothes, don't throw them away."
Chloe agreed, saying: "We'd like to make the school more eco-friendly by looking at things like plastic and recycle bins."
Each year group within the club chooses from a list of 10 topics. It is hoped that the different projects developed by each of the three groups will help TCA to achieve the Green Flag award to become an eco-school. Students also need to plan a lesson which will be taught as part of the curriculum in three different subjects.
The club is facilitated by geography teacher Miss O'Dell, but its members lead the club and come up with ideas.
Miss O'Dell said: "Our Year 7s have been very excited to get started. They are passionate about growing their own produce and reducing plastic use.
"Through figures like Greta Thunberg and Sir David Attenborough, the issue is becoming more prevalent. We want young people to know how climate change affects other people in different countries, through famine and drought. Taking a world view also helps them to become more rounded citizens.
"It's important that the young generation start looking at the future. As humans, we have evolved to focus on our closest threat; climate change seems far in the future, even though around the world it is affecting millions of people. If we start students thinking about it at a young age, they tend to keep those habits."