Meet Mabel, TCA's wellbeing dog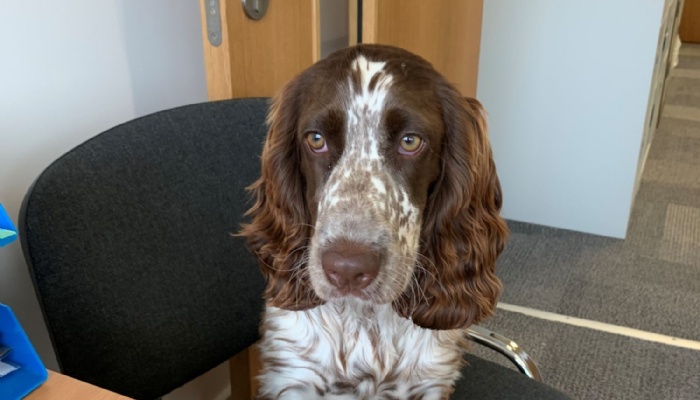 TCA's newest recruit, Mabel the wellbeing dog, has gone down a storm since being introduced to students and staff.
The nine-month-old cocker spaniel currently comes into school every Friday and to begin with, has
been getting to know students in Years 7, 12 and 13 in the Pankhurst area.
Mabel is based in the safeguarding office and it is hoped her presence will help students who may be suffering from anxiety or other mental health issues.
Vice Principal Alex Salmon, who is the school's Safeguarding Lead, said: "It's very well documented that having animals is therapeutic, stress-relieving and comforting. A common theme that we have picked up on with the young people we work with is their love of animals, especially younger children, and we wanted to do something nice for them.
"So far our students have responded really well to Mabel – she has a very calm nature and she's taken to the fuss very well! The children want to sit with her and they've been telling us about their own dogs.
"We are hoping that Mabel will go out on home visits with our Family Worker, Mrs Davies, in the future. It's still in its infancy but the plan is to have Mabel in school 2 or 3 times a week. Having a dog in school is something that's becoming more and more common."
Look out for Mabel around school and follow her on Instagram (@mabey.babey) by scanning the code below: