Recommended Reads for Key Stage 4/5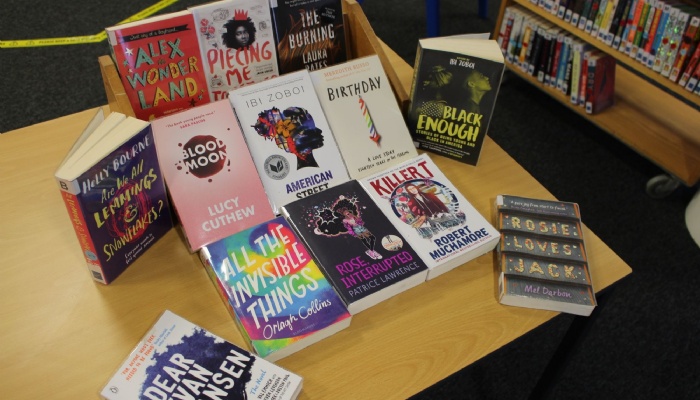 A click and deliver service has been set up so Key Stage 4 and 5 students can still borrow books from the library.
Students simply need to email Miss L Robinson with details of the title and author of the book they would like to borrow, adding 'Library Book Request' to the subject box.
Books will be delivered to students' form tutors, marked for their attention and can be kept for two weeks.
Students can search the library catalogue for both fiction and non-fiction books by accessing Eclipse via RM Unify – click here for details.
Some suggested reads, all available from the library at TCA:
All The Invisible Things by Orlagh Collins
A warm, witty, important story about being a young woman today, and what it's like to find a real connection amid all the noise.
American Street by Ibi Zoboi
On the corner of American Street and Joy Road, Fabiola Toussaint thought she would finally find une belle vie—a good life.
But after they leave Port-au-Prince, Haiti, Fabiola's mother is detained by U.S. immigration, leaving Fabiola to navigate her loud American cousins, Chantal, Donna, and Princess; the grittiness of Detroit's west side; a new school; and a surprising romance, all on her own.
Just as she finds her footing in this strange new world, a dangerous proposition presents itself, and Fabiola soon realizes that freedom comes at a cost. Trapped at the crossroads of an impossible choice, will she pay the price for the American dream?
Are We All Lemmings and Snowflakes? By Holly Bourne
Welcome to Camp Reset, a summer camp with a difference. A place offering a shot at 'normality' for Olive, a girl on the edge, and for the new friends she never expected to make - who each have their own reasons for being there. Luckily Olive has a plan to solve all their problems. But how do you fix the world when you can't fix yourself?
The Burning by Laura Bates
New school.
Tick.
New town.
Tick.
New surname.
Tick.
Social media profiles?
Erased.

There's nothing to trace Anna back to her old life. Nothing to link her to the 'incident'.

At least that's what she thinks … until the whispers start up again. As time begins to run out on her secrets, Anna finds herself irresistibly drawn to the tale of Maggie, a local girl accused of witchcraft centuries earlier. A girl whose story has terrifying parallels to Anna's own…
Rose, Interrupted by Patrice Lawrence
Eighteen months ago, 17-year-old Rose and 13-year-old Rudder escaped a strict religious sect with their mum. They are still trying to make sense of the world outside - no more rules about clothes and books, films and music, no more technology bans. But also no more friendship with the people they've known all their lives, no community and no certainty. It doesn't help that their mum has to work all hours to pay rent on their cramped, smelly, one-bed flat above a kebab shop in Hackney.
While Rudder gorges on once-taboo Harry Potters and dances to Simon and Garfunkel and show tunes, Rose swaps the ankle skirts and uncut hair of the Woodford Pilgrims for Japanese-cute fairy dress and her new boyfriend, Kye. Kye, who she wants with all her being. But there's loads of scary stuff about their new life that Rose and Rudder have no idea how to handle.
When Rudder accidently sets a devastating chain of events into action, Rose must decide whether to sacrifice everything and go back to the life she hates, in order to save the people she loves.
Birthday by Meredith Russo
Meet Eric and Morgan.
Born on the same day, at the same time, in the same place. They've always shared this one day together, but as they grow up they begin to grow apart. Everyone expects Eric to get a football scholarship, but no one knows he's having second thoughts. Former quarterback Morgan feels utterly alone, as she wrestles with the difficult choice to live as her true self.
Both of them are struggling to be the person they know they are. Who better to help than your best friend?
Told on one day every year, over six years, this is a story about how change pulls people apart... and how love brings them back together.
Killer T by Robert Muchamore
Harry and Charlie are teenagers whose lives are shaped by a society that's shifting around them. He is a lonely Brit in his first term at a Las Vegas high school. She is an unlikely friend, who gets accused of mixing a batch of explosives that blew up a football player. The two of them are drawn together at a time when gene editing technology is starting to explode. With a lab in the garage anyone can beat cancer, enhance their brain to pass exams, or tweak a few genes for that year-round tan and perfect beach body. But in the wrong hands, cheap gene editing is the most deadly weapon in history. Killer T is a synthetic virus with a ninety per-cent mortality rate, and the terrorists who created it want a billion dollars before they'll release a vaccine.
Rosie Loves Jack by Mel Darbon
Rosie loves Jack. Jack loves Rosie. So when they're separated, Rosie will do anything to find the boy who makes the sun shine in her head.

Even run away from home.

Even struggle across London and travel to Brighton, though the trains are cancelled and the snow is falling. Even though people might think a girl like Rosie could never survive on her own.

See the world through new eyes in this one-in-a-million story.
Alex in Wonderland by Simon James Green
In the town of Newsands, painfully shy Alex is abandoned by his two best friends for the summer. But he unexpectedly lands a part-time job at Wonderland, a run-down amusement arcade on the seafront, where he gets to know the other teen misfits who work there. Alex starts to come out of his shell, and even starts to develop feelings for co-worker Ben... who, as Alex's bad luck would have it, has a girlfriend.

Then as debtors close in on Wonderland and mysterious, threatening notes start to appear, Alex and his new friends take it on themselves to save their declining employer. But, like everything in Wonderland, nothing is quite what it seems...
More inspiration for older students:
Books for Key Stage 4 students - The School Reading List
Teenage and young adult books - Waterstones
Bookfinder from BookTrust (search by age and theme)