Students develop museum exhibition for Silver Arts Award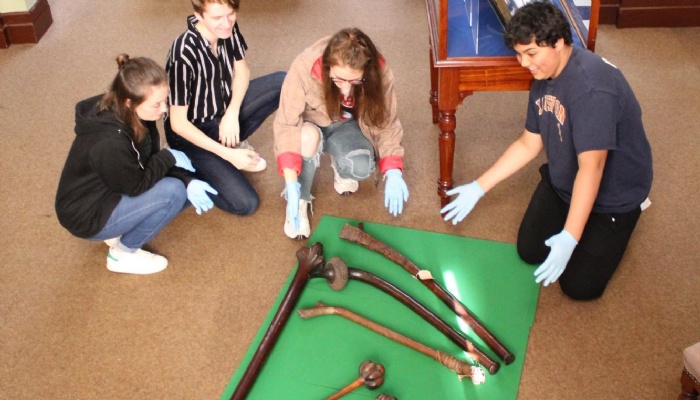 Two students have been volunteering at Wisbech and Fenland Museum to work towards their Silver Arts Award.
Sixth Former Max Hamilton and Emily Reach, in Year 11, have helped to develop a 'Pacific Currents' exhibition as part of the Level 2 qualification.
The Arts Award, which requires a commitment of 95 hours, is designed to support young people to grow as artists and arts leaders, inspiring them to take part in the wider arts world through taking challenges in an art form. To achieve silver, participants must gain experiences in arts practice, including planning an arts challenge, and arts leadership.
The award was run by Wisbech Museum in partnership with Essential Skills and the Museum of Archaeology and Anthropology (MAA), Cambridge.
The re-display of the Pacific collections at the MAA in 2018 was just the beginning of a much wider reaching project, 'Pacific Currents in Cambridge', an outreach programme which encouraged schools and community groups to engage with themes including ocean waste, migration and climate change.
As part of their project, Emily and Max visited the MAA several
times, where they critically examined the new Pacific displays. They also handled Pacific objects, practiced label writing, discussed curatorial decision-making and thought about different types of museum audiences.
Back at Wisbech Museum, the group developed their own exhibition, working with a collection of Pacific items in the museum's collection usually in storage. Through this project, a selection of carved wooden clubs, decorated bark cloths and a shield are being displayed together in the Museum for the first time.
Emily, who enjoys history and art, started volunteering at the museum in Year 9 as part of her Duke of Edinburgh award and carried on when she realised how much she enjoyed it.
She said: "Completing the Silver Arts Award gave me an insight into how exhibitions are put together and makes you realise how much goes into it. Part of the award was about setting yourself an art challenge so I challenged myself to improve my drawing technique."
Max said he was thankful for the opportunity to visit the MAA and said he enjoyed examining Polynesian culture and how they use plastic – instead of throwing away the rubbish that ends up on their shores, they use it to create sculptures that reflect their culture.
Sarah Coleman, from Wisbech and Fenland Museum, said: "We wish our Silver Arts Awarders all the very best for their amazing creative futures and thank colleagues for sharing funding and their knowledge to support our young people to discover, co-curate, collaborate and grow in confidence through being part of Pacific Currents."