Children's Mental Health Week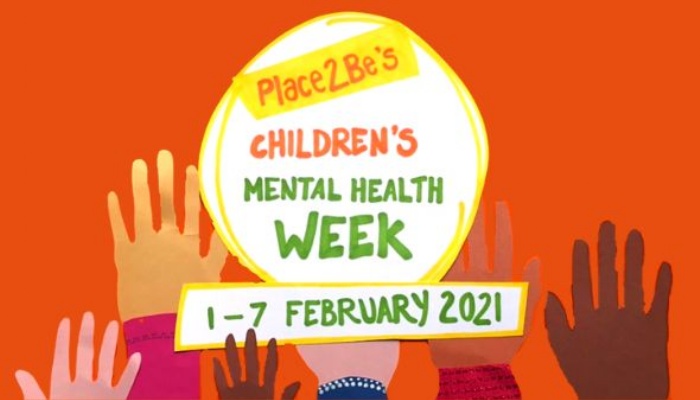 It's important for your mental health and wellbeing to make time to do something that makes you feel good a part of your routine. Our Librarian Miss Robinson suggests Children's Mental Health Week could be a time to make an extra special effort to increase the focus on your feel-good activity, or even try something new.
Here's some more information on Children's Mental Health Week, reading suggestions, things to watch, and ideas of how you may want to get involved.
From 1-7 February 2021 schools, youth groups, organisations and individuals across the UK will take part in Children's Mental Health Week. This year's theme is Express Yourself.
Expressing yourself is about finding ways to share feelings, thoughts, or ideas, through creativity. This could be through art, music, writing and poetry, dance and drama, photography and film, and doing activities that make you feel good.
It's important to remember that being able to express yourself is not about being the best at something or putting on a performance for others. It is about finding a way to show who you are, and how you see the world, that can help you feel good about yourself.
Children's Mental Health Week 2021 aims to encourage children (and adults) to explore the different ways we can express ourselves, and the creative ways that we can share our feelings, our thoughts and our ideas. (Source: https://www.childrensmentalhealthweek.org.uk/)
George the Poet's spoken word piece was shared by Random Acts - Channel 4's home for creative short films: https://www.youtube.com/watch?v=eAJUbk8rkC0
It is important to acknowledge to ourselves, and express to others, how we are feeling. Here are a few videos and podcasts you could look at:
Premiership football stars and Prince William discuss the importance of looking after your mental health: https://www.youtube.com/watch?v=GEUoV7zJ8R0 (please note the conversation touches on some serious issues including suicide)
Nadiya Hussian, the winner of The Great British Bake Off, talks about living with a panic disorder: https://www.youtube.com/watch?v=w2Yyvrvj1u8
Radio 1 presenter Katie Thistleton talks about how opening up is the first big step towards recovery: https://www.bbc.co.uk/newsround/51329385
Radio 1 DJ and former CBBC presenter Katie Thistleton dropped into Newsround HQ to chat to De'Graft about why it's important to ask for help (during Children's Mental Health Week 2020): https://www.bbc.co.uk/newsround/51356508
Bitesize article: Five ways to tackle loneliness when you're social distancing: https://www.bbc.co.uk/bitesize/articles/z4yvvk7?xtor=CS8-1000-[Discovery_Cards]-[Multi_Site]-[SL07]-[PS_BITESIZE~N~~P_TackleLonelinessWhenSocialDistancing]
Bitesize article: Managing lockdown stress: https://www.bbc.co.uk/bitesize/articles/zj42tbk
Bitesize article: How to stay motivated: https://www.bbc.co.uk/bitesize/articles/zfb2dp3
Reading has supported children's wellbeing in these uncertain times
Reading has also provided vital support for children during this challenging time. More than half (59%) of children said that reading made them feel better and a third (32%) said it helped them when they felt sad because they could not see their family and friends. Half (50%) of children also said reading inspired them to dream about the future. (Source: National Literacy Trust)
Reading is more important than ever, not only to help with literacy levels but for mental wellbeing. Reading can be a great way to switch off, relax and transport you to another world. The good news is you can continue to read at your leisure at home. Visit Cambs Libraries for thousands of free eBooks, eAudiobooks, eComics and eMagazines for a dose of escapism while we are all staying safe at home.
Books that acknowledge or explore mental health issues can help to increase awareness in our self and others, encourage dialogue, reduce stigma and develop real understanding. Here are some suggestions:
https://www.booktrust.org.uk/booklists/m/mental-health-awareness/
https://www.booktrust.org.uk/books-and-reading/bookfinder/bookfinder-results/#!?cat=2592,2593&sortOption=Relevance&pageNo=1&pageSize=8
Mood boosting book suggestions by young people: https://reading-well.org.uk/books/mood-boosting-books/chosen-by-young-people-2017
Continue reading when we are back at school by visiting the academy library if you are in Year 7, and for other year groups visit the mobile service or request a book. You will find a huge variety of books for your dose of reading escapism, plus a range of fiction and non-fiction books with a focus on mental health and wellbeing. You may learn something new or interesting, find something that helps you, or even something that helps you understand how somebody you know may be feeling.
Some ideas of how to join in at home with Children's Mental health Week 2021 theme 'Express Yourself':
Make time to read something that you enjoy, that inspires you, helps you find out more about yourself or someone else, or just read to switch off and relax!
Pick a quotation that means something to you. Choose a quotation about self-expression that resonates with you. This could have been said by a famous person, selected from a song or book.
Make a short video or photo montage about yourself. This could include your current likes and dislikes, strengths, interests, dreams and passions.
Keep a daily journal in where you can write about whatever comes to mind. It can be helpful to carry around an ideas book with you. Jotting down your thoughts can also help you to problem-solve — mind maps are a great tool for this. Creating vision boards about your future dreams and aspirations can also help to motivate and inspire you.
'Dress to Express'. The idea is simple – use colour to express yourself during the week by wearing a colourful outfit, with the option of donating £2 to Place2Be if you choose to https://www.place2be.org.uk/support-us/donate/
Where to find help
Please visit TCA's Safeguarding and information for families page: https://www.thomasclarksonacademy.org/news/?pid=3&nid=6&storyid=2354
You should always tell someone about the things you're worried about. You can tell a friend, parent, guardian, teacher or other trusted adult. If you'd like to speak to someone outside of your immediate circle, here are some places to find help:
If you need urgent help, you can contact Shout who run a Crisis Text Line. It's available 24 hours a day for anyone in the UK. Text CONNECT to 85258
You can contact Childline to speak to a counsellor online or over the phone.