New garden plans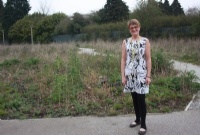 A patch of ground behind the King Learning Community will soon be a green delight.
Jane Mackie is leading the initiative to help students grow their own fruit, vegetables and flowers. The hope is that the garden can be used within lesson times, particularly for the students in the Cooper Centre.
Mrs Mackie organised some fundraising and the £200 raffle proceeds will be used to buy garden tools.
She is also hoping to form links with local garden centres to secure any unwanted plants for the garden. A local firm has agreed to plough the land, so planting will soon start.
Mrs Mackie, who has worked as a professional gardener, said: "We are hoping that students will get really involved. They will have the opportunity to become hands on with all aspects, from growing to plant care and selection and it is hoped that we can start an after school club."