World Book Day vouchers and competitions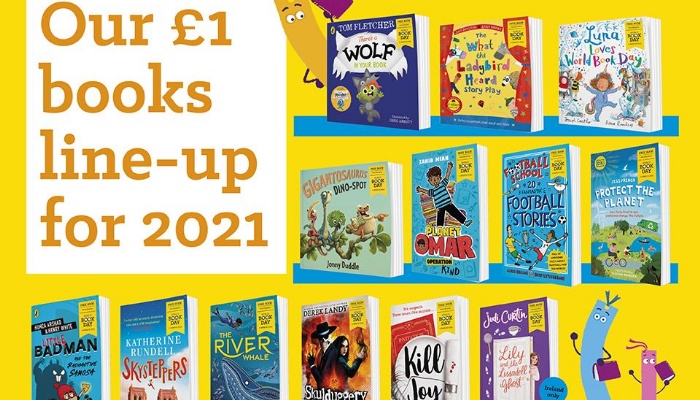 We may be celebrating World Book Day (March 4th) and all things bookish a little differently this year, but there are lots of ways to still get involved, and remember to exchange your World Book day token on your next essential shopping trip if you haven't already!
A reminder your token is valid from Thursday 18th February to Sunday 28th March and can be found here.
Swap the voucher to get one of the £1 World Book Day books for FREE or use the voucher to get £1 off any book or audiobook worth £2.99 or more. (See voucher for more details and to access the terms and conditions).
Do you like the sound of getting your hands on one of the free books, but are unsure which one to choose? Click on the book covers here to read more about this year's World Book Day books.
Some suggestions for KS3+
Suggestions for KS4+
Are you looking for some inspiration for your next read?
Look at the titles recommended for children and teenagers, by children and teenagers:
From the World Book Day website: You must read this… here are the TOP 25 BOOKS FOR TEENS as voted for by you. These are the books that you can't wait to press into the hands of your friends. The books that everyone's talking about and the stories that have stayed with you long after the final page. The tearjerkers, the stories you want to share and the books that have changed the way you think. Happy reading and happy sharing!
Just one more chapter… we all know books that make you want to read on and on to find out what happens next and here are the TOP 25 STORIES TO SHARE FOR 9-12-year-olds as voted for by you. From stories that fire your imagination to books that capture your heart before you've even finished the first chapter, these are the stories that you can't wait to re-read together. Happy reading and happy sharing!
Here are some interesting extracts to watch featuring some of the World Book Day authors:
Imagine a wild adventure with Katherine Rundell https://www.worldbookday.com/online-masterclasses/imagine-a-wild-adventure/
Inspirations for storytelling flow with Sita Brahmacharu https://www.worldbookday.com/online-masterclasses/inspirations-for-storytelling-flow/
How to make characters feel real with Derek Landy https://www.worldbookday.com/online-masterclasses/how-to-make-characters-feel-real/
Read, is a poem to watch and listen to, written by Miss Emily Allison to celebrate World Book Day and books! https://m.youtube.com/watch?v=jlaB2RR3ppE&feature=share&fbclid=IwAR1j4G0OTJwgjdId94TKRniJ7mWw7E77UBHEy6QrxMOGvdN3DUQsdlPkIug
Welcome to World Book Day's World of Stories.
Enjoy brand new, FREE audiobooks for World Book Day 2021!
Whether you're reading together with the family, or listening in your own time, find your next audiobook to tune into here!
World Book Day will be updating this page with more audiobooks in May, so visit later too to discover new favourites all the time. To stay updated, why not sign up for their newsletter here.
Please note that audiobooks published by Penguin and Hachette will expire after 1 month, and all other audiobooks will be taken down after 6 months. They will add new audiobooks to replace these, so keep checking back! https://www.worldbookday.com/world-of-stories/
Prize winning short stories written by young people:
You don't need long to be able to enjoy a short story written by a young person. Watch celebrities read out the winning 500 Words stories from recent years. https://www.bbc.co.uk/programmes/articles/KNWsKPrg7stQ54tTbcf6P7/500-words-the-stories
Where can I access more books?
Remember to join Cambridgeshire Libraries if you haven't already, where you can search for titles, and read books, without leaving home. We hope you enjoy their online offer - which is bigger and better than ever.
Use your library card membership to access lots of free resources including eBooks, eAudiobooks, eMagazines, eComics and eNewspapers.
You can join online here for free (guarantor required for under 16s).
It's competition time!
You have the opportunity to take part in a nationwide competition to design a National Book Token where you have the chance to win hundreds of pounds of National Book Tokens, and to have your design made into a real life National Book Tokens gift card in time for Christmas. Please see details of the competition, age categories, entry terms & conditions, and where to download the design template form here.
If you would like to enter please hand in your completed design template entry form to your Form Tutor by tutor time on Monday 22nd March. Form tutors can pass all entries onto our librarian Miss Robinson. Good luck!
CREATIVE COMPETITION!
Miss Robinson is also running a creative competition open to all year groups where you can earn green cards just for entering, and the chance to win Amazon voucher prizes in a 'Recreate a Book Cover' competition!
To take part in the competition please recreate a book cover, in the format you choose, and submit your entry to Miss Robinson (send your document or a photo of your entry via TEAMS) by Friday 26th March. You can choose how you want to recreate your book cover, you may wish to draw or paint your own version, sculpt, collage, 3D model, recreate a digital version, dress up, or even bake your recreation of your book cover!
See below for examples:
We look forward to seeing your creations!
Miss Robinson has shared ways in which students can join in with World Book Day fun from home, online and in person:
Top of the list must be to take some extra time this week to enjoy your reading! Remember you can access new titles free from Cambridgeshire Libraries at home and borrow books from the academy library when we return to school.
Share what you're reading on social media using #WorldBookDay to join the online celebration.
Join Cambridgeshire Libraries online if you have not already and help a member of your household to do the same.
Recommend a book to a member of your household (or on the phone to a friend) that they can either read now or add to their own TBR (to be read) list.
Sort through your bookshelf into piles to keep, piles to swap, piles to donate to a charity in the future.
Read an extract of a favourite story to a member of your household and get them to do the same to you, then talk about why it's your favourite.
Read a passage from a book you are currently reading to a member of your household - this could include pets!
Write or update your TBR list of books for the rest of the year, aim for a minimum of 18 titles but add as many as you want! Keep it going throughout the year, adding new titles and ticking them off as you go.
Swap a book with someone in your household.
Have literary themed food/drinks on World Book Day (or sometime that week that suits you) with a menu designed by you for members of your household to choose from. Have some fun thinking about how your favourite books or characters, such as Harry Potter inspired potions, translate into your food and drinks for the day?!
Watch a film adaption of a book as part of your evening or weekend entertainment.
Host a quiz night for your household with bookish themed questions.
Have some fun on World Book Day! Try using clothes/items in your house to dress up as a book character for the day/evening. Could you suggest outfits for members of your family too?!
Could you do any of the above with a friend on the phone/videocall too?
Here are some more suggestions from World Book Day on how to join in:
Find out more about what your friends and classmates have been reading to help you pick your next book.
Challenge your friends and family to recommend their perfect read for finding out about the world we live in… or escaping it entirely!
Start writing that book – use World Book Day's Author & Illustrator Academy videos to give you hints and tips, and talk to your friends for inspiration.
Discover more about this year's World Book Day £1 authors with their online previews – and discuss them with your friends. Which book will you choose this year?
Organise a regular video call or set up a chat group to talk about books and reading with your friends and family. Choose a specific book or just talk about what attracts you to – or puts you off – certain books.
Let us know if you have a go at any of the activities above. Have fun reading and sharing all things bookish on World Book Day and beyond!
Remember to get your entries in by the deadline for each competition to have a chance at winning the prizes, and good luck!