Carnegie shortlist announced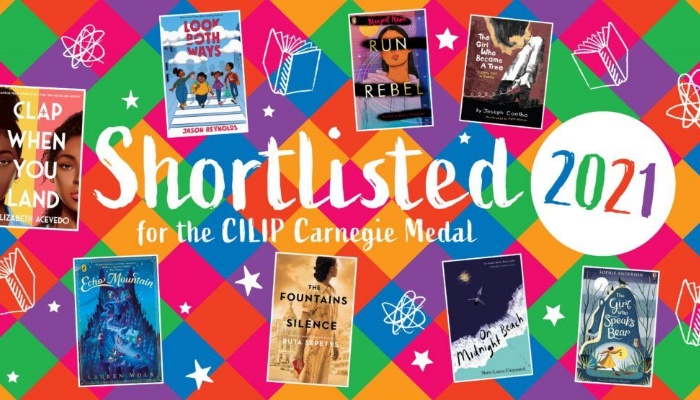 Themes of self-discovery, friendship and explorations of nature feature in the books which have been shortlisted for this year's prestigious Carnegie Medal.
All eight books will be available to borrow from the library at TCA:
Clap When You Land by Elizabeth Acevedo
Camino Rios lives for the summers when her father visits her in the Dominican Republic. But this time, on the day when his plane is supposed to land, Camino arrives at the airport to see crowds of crying people...
In New York City, Yahaira Rios is called to the principal's office, where her mother is waiting to tell her that her father, her hero, has died in a plane crash.
Separated by distance - and Papi's secrets - the two girls are forced to face a new reality in which their father is dead and their lives are forever altered. And then, when it seems like they've lost everything of their father, they learn of each other.
In a dual narrative novel in verse that brims with both grief and love, award-winning and bestselling author Elizabeth Acevedo writes about the devastation of loss, the difficulty of forgiveness, and the bittersweet bonds that shape our lives.
The Girl Who Speaks Bear by Sophie Anderson, illustrated by Kathrin Honesta
They call me Yanka the Bear. Not because of where I was found - only a few people know about that. They call me Yanka the Bear because I am so big and strong.
Found abandoned in a bear cave as a baby, Yanka has always wondered about where she is from. She tries to ignore the strange whispers and looks from the villagers, wishing she was as strong on the inside as she is on the outside. But, when she has to flee her house, looking for answers about who she really is, a journey far beyond one that she ever imagined begins: from icy rivers to smouldering mountains meeting an ever-growing herd of extraordinary friends along the way.
The Girl Who Became A Tree by Joseph Coelho, illustrated by Kate Milner
Daphne is unbearably sad and adrift. She feels the painful loss of her father acutely and seeks solace both in the security of her local library and the escape her phone screen provides by blocking out the world around her.
As Daphne tries to make sense of what has happened she recalls memories of shared times and stories past, and in facing the darkness she finds a way back from the tangle of fear and confusion, to feel connected once more with her friends and family.
On Midnight Beach by Marie-Louise Fitzpatrick
I kept clear of Dog Cullen. Till the summer we turned seventeen, the summer the dolphin came to Carrig Cove . . .

Donegal, 1976
When a dolphin takes up residence in Carrig Cove, Emer and her best friend, Fee, feel like they have an instant connection with it. Then Dog Cullen and his sidekick, Kit, turn up, and the four friends begin to sneak out at midnight to go down to the beach, daring each other to swim closer and closer to the creature . . .
But the fame and fortune the dolphin brings to their small village builds resentment amongst their neighbours across the bay, and the summer days get longer and hotter . . . There is something wild and intense in the air. Love feels fierce, old hatreds fester, and suddenly everything feels worth fighting for.
Run, Rebel by Manjeet Mann
I am restless, my feet need to fly.
Amber is trapped - by her father's rules, by his expectations, by her own fears.
Now she's ready to fight - for her mother, for her sister, for herself.
Freedom always comes at a price.
Run, Rebel is a trailblazing verse novel that thunders with rhythm, heart and soul - perfect for fans of Sarah Crossan, Elizabeth Acevedo and Rupi Kaur.
Look Both Ways by Jason Reynolds
When the bell rings and school is finished for the day, the walkers are finally set free. For ten blocks they have no-one telling them what to do; they can talk about bogies, skateboard, plan dramatic escapes, make jokes, face bullies, and hear about the school bus that fell from the sky… In ten stories (one per block), find out what really happens on the walk home from school, when there are no parents or teachers to supervise (or stop the fun!). From hilarious escapades to brave challenges, join the walkers for one journey and many, many detours…
The Fountains Of Silence by Ruta Sepetys
Madrid, 1957.
Daniel, young, wealthy and unsure of his place in the world, views the city through the lens of his camera.
Ana, a hotel maid whose family is suffering under the fascist dictatorship of General Franco.
Lives and hearts collide as they unite to uncover the hidden darkness within the city. A darkness that could engulf them all . . .
Echo Mountain by Lauren Wolk
1933. When Ellie and her family lose everything, they flee to Echo Mountain to build a new life. Ellie runs wild, exploring the mountain's mysteries. But the one she can't solve is who's leaving the gifts for her: tiny, beautiful wooden carvings of animals and flowers, dotted around the mountain for her to find.

Then Ellie's father has a terrible accident. Now he lies in a coma, while Ellie shoulders the blame for what happened. When she sets out to find a cure for him, she discovers Cate, the outcast witch, and Larkin, a wild mountain boy. From them she learns about being a healer, being brave - and about how there can be much more to a person than first meets the eye.
The CILIP Carnegie and Kate Greenaway Medals are the UK's oldest book awards for children and young people and are judged by librarians, with the Shadowers' Choice Award voted for by children and young people.
Ellen Krajewski, Chair of the 2021 CILIP Carnegie and Kate Greenaway Medals judging panel, said: "With themes of freedom, the great outdoors and journeys through the natural world, we hope the outstanding books on this year's shortlists will inspire and empower young readers, offering hope and escapism during lockdown."