Duke of Edinburgh students achieve bronze award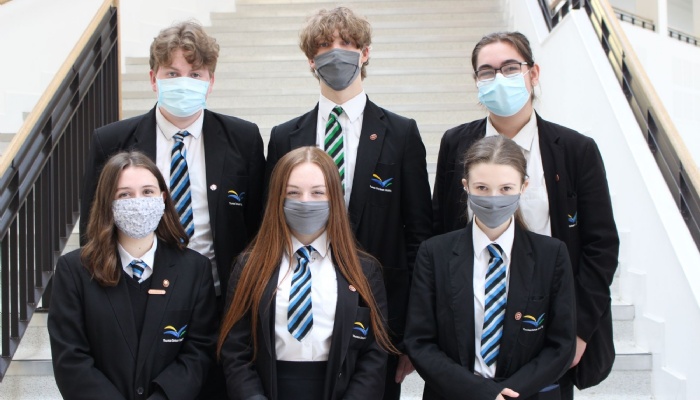 Following the death of HRH The Duke of Edinburgh, TCA pays tribute to the positive impact the Duke of Edinburgh programme has had on many of our students over the years.
The DofE, which Prince Philip was Founder and Patron of, encourages young people to get out into the countryside, learn new practical skills, volunteer their time, and build key skills including leadership, independence and self-confidence.
The programme has been on offer at TCA for a number of years and the four parts of the award –
volunteering, skills, physical and expedition - has seen students test their endurance and self-reliance during camping and hiking expeditions, along with a commitment to developing new skills and volunteer work.
Two of our students, Emma Parkinson and Connor Loughlin, were appointed DofE Ambassadors to help promote the programme in school and support their peers who are working towards bronze.
More recently, TCA congratulated a group of Year 11 students who completed their bronze Duke of Edinburgh award despite the programme being interrupted by lockdown.
The group began their DofE journey back in Year 9 when they embarked on a series of challenges and activities.
They have now received their certificates and badges and Miss Willows, TCA's Duke of Edinburgh Award Manager, said the students did brilliantly well in all aspects of the programme. The participants were:
Emily Reach
Jay Wait
Maisie Macdonald
Lily Manning
Holly Luck
Henrikas Kuprys
Hazel Bhaloo
Aiden Ives-Day
Students' volunteer work included helping out at Wisbech Museum, working for the charity Cats Protection, dog walking and helping at a nursery.
Miss Willows said: "This is our second group to achieve bronze from the Year 11 cohort and they have all done so well. The DofE assessors commented on our students' communication skills and the energy they brought to the programme. I encourage students to sign up for the DofE because it develops independence and helps young people take responsibility for things."
Maisie Macdonald said she enjoyed the new challenges that comes with completing the Duke of Edinburgh award.
"I learned how to cook outdoors, how to put up a tent and how to read a map," she explained. "It's good to get outside instead of just staying in and being on your phone or computer all the time, which is not good for your mental health. You will experience new things as you get older so this helps you to get out of your comfort zone. There was a lot of teamwork involved and putting your trust in other people."
Maisie, who is a keen runner and gymnastic, completed the volunteering section of her bronze award by volunteering at a junior Park Run, where she helped with the warm-up and time-keeping. She also took part in regular cookery sessions.
Well done to all who achieved their Bronze award. For more information about the DofE contact Miss Willows.
Some photos from DofE activities over the years: