Supporting our Year 11 and Year 13 students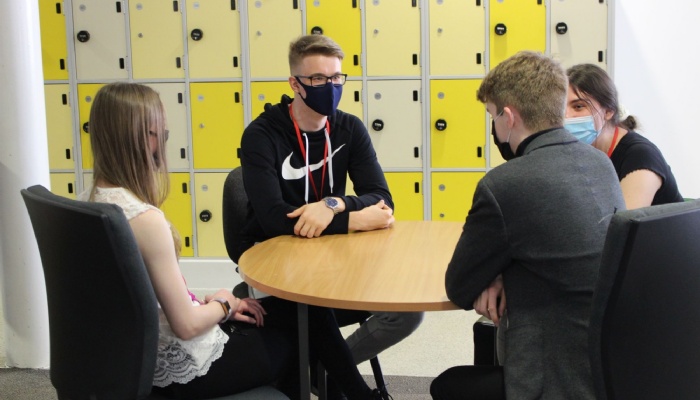 This last year has been a challenging one, not least for our students who are considering their next steps and who would normally be gearing up for exams.
Our Year 11 and Year 13 students have impressed us with their attitude and resilience as they adapted to the changes and challenges that have come their way. Earlier this year, the government announced that GCSE, AS and A level exams would not go ahead this summer. Instead, teachers will determine students' grades, based upon a range of evidence verified by the school. These results will then be reviewed by the exam boards who designed each course, before final grades are awarded. Visit our exams page for more information and assessment dates.
How is TCA supporting these students during this crucial time?
A number of 'Raising Achievement' sessions have been held on Saturdays for both Year 11s and Year 13s, which have been well attended. A recent maths session saw a fantastic turn-out, just days after students had sat an assessment. Students have been provided with online revision tools and resources, along with topic lists. Students in years 10 to 13 who received laptops during lockdown have been able to keep hold of them.
"We are taking the same approach as if exams were still going ahead," said Mrs Tarsitano, Vice Principal for Outcomes. "We found that students have taken it in their stride, and have been engaged with staff on Teams, where we are sharing resources and answering questions. After online learning, students have been really good at carrying on discussions with teachers on Teams.
"They have grasped the importance of the next few weeks and we have been getting the message
across that there's everything to fight for. Any evidence that we can gather from them can help them to achieve their best grade. We are taking a really individual approach in supporting them."
Students have also been meeting with TCA's Careers Leader, Mrs Read, to finalise their next steps and make sure they stay on track. Year 11s have had remote one-to-one interviews with her, where she has offered advice on their sixth form and college applications. Mrs Read said as the virtual interviews were done at home, it was useful for parents to be involved in those discussions.
"They've had virtual open days and presentations from organisations like Aim Apprenticeships and the College of West Anglia," said Mrs Read. "We also been promoting apprenticeship and job adverts via Teams, and we've been sharing templates and advice to help them develop their CVs. We're running everything as normal, just remotely."
Year 13 students have also met individually with Mrs Read and have received additional interview preparation if they have requested it. For those moving on to university, they have been discussing their offers with Mrs Read and Head of Sixth Form Miss Hornby, while a number of students have been successful in gaining employment.
There will be a talk on student finance for both Year 12 and Year 13 on May 3rd and 4th, and Year 12s will be advised on the changes UCAS has made to its application process. Year 12s will also take part in a masterclass on the Oscar website, where they can explore career pathways.
Sixth form students have been encouraged to develop new skills outside the classroom through the four-week Enrichment Challenge, which saw them undertake endeavours including academic writing, photography, drawing, yoga, Microsoft education centre, book club and cooking.
What our students say:
"To begin with, I was worried about my future and that I wouldn't get the grades that I thought I deserved. The teachers have definitely supported us and shown us there's nothing to worry about. I think it will still reflect what I'm capable of. Lockdown showed me what I really enjoy and what I want to be, and that it's up to me to succeed. It gave me resilience."
Goda Rinkeviciute, Year 11
"I'm pleased that the government has taken into account that we have missed so much school. I feel more prepared and confident now and I'm taking each day as it comes. The emphasis on autonomy in lockdown and online learning has been helpful in preparing me for A levels and university – it's down to you as an individual to get the work done."
Kameran Sorani, Year 11
"When they announced there would be no exams, I saw both sides of it but wasn't sure how we would get our grades. It was a bit confusing to begin with but we have got on with it and in lessons, teachers are including what is best for us. There's support there if you need it."
Tia Onslow, Year 11
"It hasn't affected my plans or changed anything for me. Everyone has been really supportive and there has been a lot of support with wellbeing – it's good that wellbeing has been a focus rather than just grades, grades, grades."
Chloe Garner, Year 13
"After lockdown, the Sixth Form enrichment challenge helped us to build bridges and start socially integrating as we started meeting people again. The coursework we are doing is helping to prepare us for university as we are learning about referencing and bibliographies, and it's preparing us for deadlines. Something like this does increase growth and development."
Max Hamilton, Year 13
"I did think that exams might not go ahead and I wasn't sure what was going to happen, but when we got all the information, I thought it was the best thing for us. There are teachers to speak to and any problems have been sorted out straight away."
Bethany Summers, Year 13
"I was shocked at first when I found out we wouldn't be doing exams but I'm happy with the solution they've found. The teachers told us as soon as they knew what was happening."
Grantas Vendzinskas, Year 13