Surprise skydive for Mrs Carter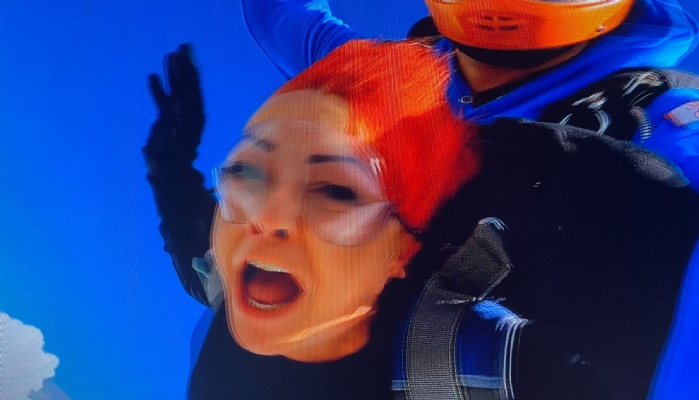 A member of staff got a lot more than she bargained for when she went along to support her son during his charity skydive – she found out she would be joining him!
The night before the skydive, Mrs Carter and her husband joined son Kyle in a pub garden to show moral support. It was then that Kyle revealed he'd booked for the pair to join them on the 10,000ft skydive at Bridlington the next morning!
Mrs Carter, who teaches Key Stage 3 in the Cooper Centre, said: "Kyle and his girlfriend were saying how nervous they were, so we said we wished we were doing it with them - just to support them but not really meaning it. The next thing they're saying we're doing a tandem skydive too!"
She said her and her husband were awake until 4.30am that morning as the nerves began to set in, and they even considered driving off in the night to get out of it!
"They'd asked us about a year ago if we wanted to do it but we'd said, no way," Mrs Carter said.
But in a surprise turn of events, Mrs Carter said she absolutely loved it and is doing another 13,000ft skydive in a few months' time!
She said: "It was amazing. My husband didn't think I would do it but once I was out the plane, I really enjoyed it. It took 20 minutes to get up to 10,000ft and about 6 minutes to come down - my husband got up to about 138mph. We had views all over Scarborough and at one point we aimed for a hole in a cloud and flew through it. The instructors were so good."
The team were raising money for the William Merritt Disabled Living Centre, where Kyle's girlfriend works, and have smashed their initial target of £500 by raising just under £2,000.
The money raised will go towards providing phones, tablets, computer games and toys that are accessible to people with disabilities.
To make a donation visit https://www.justgiving.com/campaigns/charity/wmdlc/wmcskydive2020.