Mental Health Awareness Week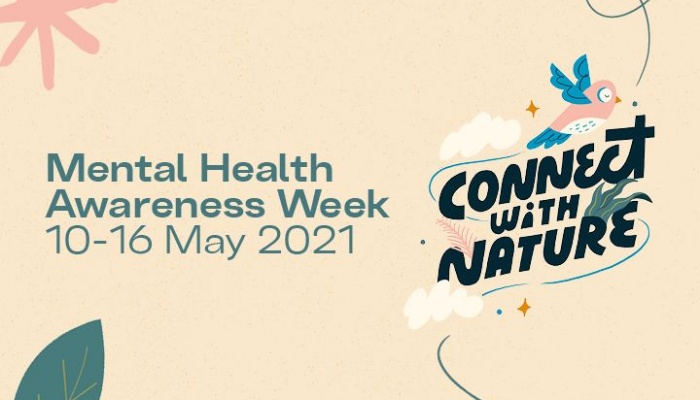 This week marks Mental Health Awareness Week, with this year's theme being Connect With Nature.
Why Nature is the theme for Mental Health Awareness Week 2021

From the Mental Health Foundation:
During long months of the pandemic, millions of us turned to nature. Our research on the
mental health impacts of the pandemic showed going for walks outside was one of our top coping strategies and 45% of us reported being in green spaces had been vital for our mental health.
During Mental Health Awareness Week 2021, we will pull together the evidence that demonstrates the powerful benefits of nature for our mental health. We will look at nature's unique ability to not only bring consolation in times of stress, but also increase our creativity, empathy and a sense of wonder. It turns out that it is not just being in nature but how we open ourselves up and interact with nature that counts. We will show that even small contacts with nature can reduce feelings of social isolation and be effective in protecting our mental health, and preventing distress.
Thriving with Nature - a guide for everyone. Making the most of the UK's natural spaces for our mental health and wellbeing.
Librarian Miss Robinson has put together lots of recommended reads and watch-lists, along with other resources that you may find beneficial.
Reading supports children's wellbeing
Reading has provided vital support for children, says the National Literacy Trust. More than half (59%) of children said that reading made them feel better and a third (32%) said it helped them when they felt sad because they could not see their family and friends. Half (50%) of children also said reading inspired them to dream about the future.
Reading is more important than ever, not only to help with literacy levels but for mental wellbeing. Reading can be a great way to switch off, relax and transport you to another world. The good news is you can continue to read at your leisure at home. Visit Cambs Libraries for thousands of free eBooks, eAudiobooks, eComics and eMagazines for a dose of escapism..
Continue reading by visiting the academy library if you are in Year 7, and for other year groups visit the mobile service or request a book. You will find a huge variety of books for your dose of reading escapism, plus a range of fiction and non-fiction books with a focus on mental health and wellbeing. You may learn something new, find something that helps you, or even something that helps you understand how somebody you know may be feeling. Or you may just have found a good book you enjoyed!
Books that acknowledge or explore mental health issues can help to increase awareness in our self and others, encourage dialogue, reduce stigma and develop real understanding. Here are some suggestions:
https://www.booktrust.org.uk/booklists/m/mental-health-awareness/
https://www.booktrust.org.uk/books-and-reading/bookfinder/bookfinder-results/#!?cat=2592,2593&sortOption=Relevance&pageNo=1&pageSize=8
Mood boosting book suggestions by young people: https://reading-well.org.uk/books/mood-boosting-books/chosen-by-young-people-2017
Looking after yourself
These books are all about teaching us the power of self-care. Learn all about mindfulness and how to value yourself and your emotions. The vibrant images and stories in these books might help you put into words those feelings you never knew how to express:
For ages 9-12:
For ages 12+:
The titles on the Young People's Mental Health booklist are also available to borrow from the academy library.
To watch
Newsround: Mental health videos
Seven illustrators explore mental health
Former England footballer, Micah Richards, reflects on his own experiences
Wellbeing 101: Top tips for looking after your mental health
The BBC Bitesize seven days of kindness challenge
Rutendo Tavengerwei reads her poem and sets a task to write a letter to a friend or family member, sending them "a smile that can never fade".
More recommended reads
From Miss Robinson: "A great read that I'd recommend to anyone is Paper Avalanche by Lisa Williamson, where the main character fourteen-year-old Ro is befriended by Tanvi. However, this new friendship is the last thing Ro wants as it threatens to expose the life she has been so careful to hide, fearing that if anyone finds out how her and her mother live, she will be taken into care. The book explores mental health, recovering from cancer, and friend and family relationships sensitively, and I found myself willing Ro on through each chapter."
Here are just a few examples of non-fiction titles available:
Where to find help
Visit TCA's Safeguarding and information for families page.
You should always tell someone about the things you're worried about. You can tell a friend, parent, guardian, teacher or another trusted adult. If you're struggling with your mental health, going to your GP can be a good place to start to find help. Your GP can let you know what support is available to you, suggest different types of treatment and offer regular check-ups to see how you're doing.
If you're in need of in-the-moment support you can contact Shout 85258. It's a free, 24/7 text messenger support service for anyone in the UK. Text the word "SHOUT" or "YM" to 85258 to start a conversation.
Centre 33 offers the 'Someone to Talk To' service. Telephone Helpline: 0333 4141809 or email help@centre33.org.uk.
Information and Support: Mental Health & Self-harm
If you, or someone you know, have been affected by mental health issues or self-harm, the organisations listed here may be able to help.