Teams compete in National Reading Champions Quiz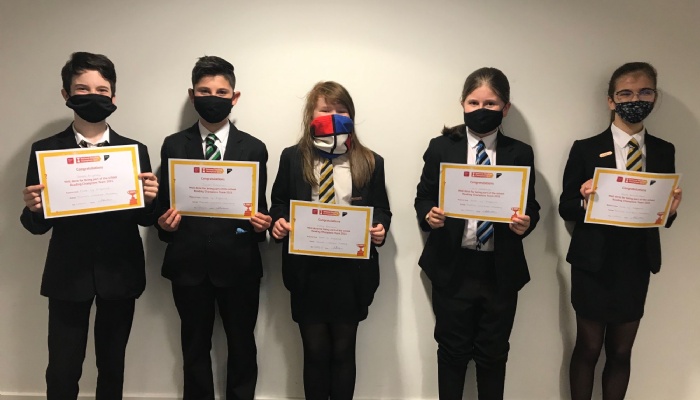 Two teams had great fun when they represented TCA at the National Reading Champions Quiz.
Competing against 34 other teams, our Year 7 and 8 students went head to head against other students from across the region in the ultimate test of their reading knowledge.
Quizmaster Mr Dilly provided much entertainment – in one round he acted out 10 different books!
Miss Robinson said students did her proud and that they are already looking forward to next year's competition.
"I was so proud of how they worked together as teams during the quiz, really got involved in
answering the questions, and showed off some great literary knowledge answering quiz questions, some of which were very tricky," she said.
"Mr Dilly was a great quizmaster, making the online event really fun for all involved, and it was great opportunity for the students to see author Julian Sedgwick talking about his travels and the inspiration behind his latest novel, Tsunami Girl."
"It was fantastic to see the teams showing resilience and perseverance throughout. I thank each and every one of the students for their enthusiasm and effort leading up to and during the event - you really were superstars and should be proud of yourselves! We had so much fun and can't wait to compete again next year!"
Julia in Year 7 said: "The event was very educational and fun, especially with Mr Dilly - an amazing host."
Miley, also in Year 7, added: "I found the reading challenge fun and interesting. My favourite round was the nostalgic 'Blast from the Past' round. It was nice to get an opportunity to do something new."

Ava went along as a reserve but watched and wrote down her own answers. She said: "I think the best thing about representing TCA in this competition was that everyone was supportive and were willing us on, which made it exciting."
The competition, which is in its first year, is led by the National Literacy Trust and funded by the Author's Licensing and Collecting Society (ALCS). It celebrates keen, young readers and champions the important role of teachers and school librarians in promoting reading for pleasure. It comes after National Literacy Trust research revealed that children who enjoy reading have significantly better mental wellbeing than those who don't.