Action-packed year ahead for talented motorbike racer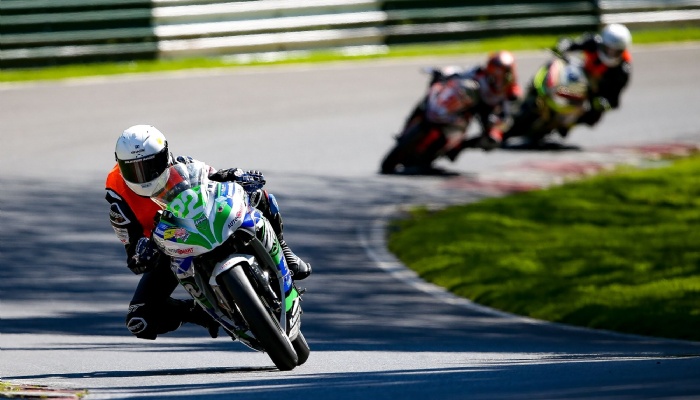 Lewis Lakey's time at TCA may have drawn to a close but an exciting new chapter lies ahead for the keen motorcyclist, with an action-packed calendar of race events lined up.
The Year 11 student, who rides a Kawasaki Ninja 300, will this year be racing in the British Superteens
with Thundersport GB, one of the UK's fastest growing motorcycle racing clubs.
Lewis has recently raced at Cadwell Park – his favourite track – just before his 16th birthday on June 1st. In the coming months, he'll be racing at more of the UK's top racing tracks, including Anglesey and Donington Park.
What started as a hobby quickly grew into a passion. Lewis began riding at the start of 2018 on a 140 Supermoto with British Mini Bikes, entering his first race just months later. He then decided to give the MiniGP 140 a go, adapting his riding to finish as a top 10 winter finalist after only competing in two rounds.
In 2019, he continued to ride the MiniGP, again finishing in the top 10. The Kawasaki Ninja 300 allowed Lewis to enter bigger competitions at national tracks and last year, he spent time getting used to his new bike and entering races between lockdowns, including riding in the Team Green Juniors with Bemsee Motorcycle Racing Club.
More recently, he raced at Snetterton and despite only fitting in two practise sessions, he managed to qualify 19th on the grid and made it to 11th overall and 4th in his class in his first race. Lewis then went on to get two 5th places in his class, facing challenging weather conditions which saw his race in hail and rain.
Lewis said his ultimate dream is to compete in the British Superbike Championship.
"I'd like to do this for as long as I possibly can and go as far as I can. I'd like to get to the top – that's what we're working towards," he said.
"I enjoy motorbike racing because it just lets you escape and empty your mind. It's that feeling of freedom and adrenalin.
"To race on tracks where famous riders and MotoGP have ridden – it's overwhelming."
Lewis has been lucky to gain sponsorship and support from:
TranzTech Ltd
Helite Airvest Ltd
NGK Spark Plugs UK Ltd
Washbrook Farm Motocross
HEL Performance
RST
Motul
Autosmart c/o Mark Allen
David Lakey Flooring
Follow Lewis on:
Facebook: Lewis Lakey Racing #221
Instagram: lewislakeyracing221
Twitter: LewisLakeyRacing#221
We wish Lewis all the very best in his future races and we'll be keeping an eye out to see how he gets on!