School Diversity Week & Pride Month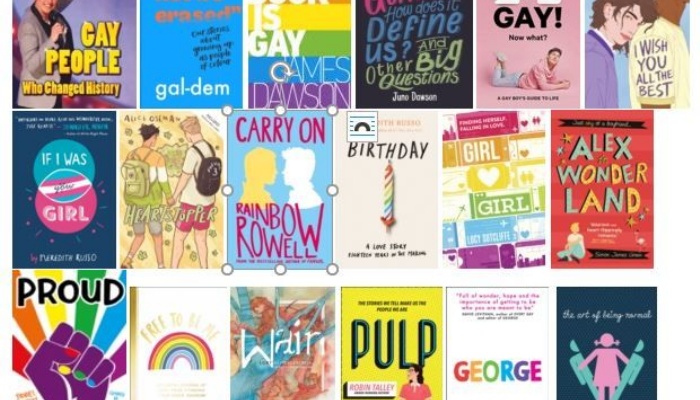 Our Librarian Miss Robinson has put together some reading recommendations, things to watch and activities you can get involved to celebrate School Diversity Week and Pride Month.
The charity Just Like Us says you don't have to be LGBT to be an ally. What's an ally? A friend and supporter of the LGBT+ community.
Diversity in books, and other media, is important as we live in a diverse world. BookTrust says: "Representation is so important, both for teens who are themselves LGBT and also for others to gain more empathy and understanding."
School Diversity Week
During School Diversity Week (21st to 25th June), primary and secondary schools as well as colleges across the UK celebrate lesbian, gay, bisexual and trans equality in education.
This year, Just Like Us will have masterclasses suitable for all ages from primary to secondary school. We will clearly outline the target age group for each workshop, and parents and carers are welcome to watch along with your young people. School Diversity Week Masterclasses Timetable: Masterclasses (justlikeus.org)
Pride Month
Every year, during the month of June, the LGBT community celebrates in a number of different ways. Across the globe, various events are held during this special month as a way of recognising the influence LGBT people have had around the world. Pride Month is celebrated every year in June, as this marks the anniversary of the Stonewall Riots. These were a series of equal rights demonstrations held by members of the LGBTQ+ community against oppression. This was in response to violent police raids on LGBTQ+ establishments in New York in June 1969.
Considered a pivotal moment for LGBTQ+ civil rights, Pride Month is celebrated in June to mark how far the movement has come and what still needs to be done to help ensure fair treatment for all without discrimination.
As well as being a month-long celebration, Pride month is also an opportunity to peacefully protest and raise political awareness of current issues facing the community. Parades are usually a prominent feature of Pride month, and there are many street parties, community events, poetry readings, public speaking, street festivals and educational sessions all of which are covered by mainstream media and attracting millions of participants. This year you may see some Pride events happening virtually or later in the year due to the ongoing effects of COVID-19.
Newsround "Pride month: What is it and why do people celebrate it?" https://www.bbc.co.uk/newsround/52872693
Newsround video "Where does the rainbow flag come from?" https://www.bbc.co.uk/newsround/40717297
Newsround "Pride Month: Who was Marsha P. Johnson and why was she so important?" https://www.bbc.co.uk/newsround/52981395
BBC Bitesize: From personal stories from members of the LGBTQ+ community, to learning about the origins of Pride, check out our collection in celebration of Pride Month" - Embracing your identity: Celebrating Pride Month 2020 - BBC Bitesize
How to be an ally to friends who've changed their pronouns https://www.bbc.co.uk/bitesize/articles/zp6ftrd
Reading inspiration
You may want to read a book that helps you understand more about yourself and how you may be feeling, be keen to learn more about how a friend or family member may be feeling, like to gain an understanding of other people's experiences, or just want to read a good book!
Here are some popular authors of LGBT+ books:
David Levithan is an American young adult fiction author who has written many books featuring LGBT+ characters — most commonly gay male characters — and which explore issues related to being LGBT+. Particularly relevant works include:
Boy Meets Boy (2003)
The Realm of Possibility (2004)
How They Met (2008)
Will Grayson, Will Grayson, co-written with John Green (2010)
Every Day (2012)
Two Boys Kissing (2013)
Someday (2018)
The Full Spectrum: A New Generation of Writing About Gay, Lesbian, Bisexual, Transgender, Questioning and Other Identities, ed. with Billy Merrell (2006)
Patrick Ness is a British-American author of young adult fiction, whose books often have a fantastic or dystopian element and feature LGBT+ characters. Particularly relevant works include:
Chaos Walking series: The Knife of Never Letting Go (2008), The Ask and the Answer (2009), Monsters of Men (2010)
More Than This (2013)
The Rest of Us Just Live Here (2015)
Becky Albertalli is an American author of young adult fiction, who wrote the novel which was adapted into the now very famous film Love, Simon. Several of her other books also explore being LGBT+, or feature LGBT+ characters
Creekwood Series
Simon vs. the Homo Sapiens Agenda (2015)
Leah on the Offbeat (2018)
The Upside of Unrequited (2017)
Love Frankie by Jacqueline Wilson
Proud compiled by Juno Dawson
Camp by LC Rosen
Black Leopard, Red Wolf by Marlon James
Oranges Are Not the Only Fruit by Jeanette Winterson
Good Night Stories for Rebel Girls by Elena Favilli and Francesca Cavallo
Two Weeks with the Queen by Morris Gleitzman
The Secrets of Billie Bright by Susie Day
Book lists:
These books for teens and young adults all feature lesbian, gay, bisexual or transgender characters and relationships. https://www.booktrust.org.uk/booklists/l/lgbt-ya/
It's important for everyone to see themselves in books — and to discover other people's experiences, too. Transgender and non-binary characters | BookTrust
School Diversity Week's booklist: https://www.justlikeus.org/secondaryreading
LGBTQ+ Booklist: 1ef4ff_5881187f9d0543799e7ed8c4455c5aa9.pdf (usrfiles.com)
Look at the booklists and the titles available from the academy library for inspiration, where there is a wide range of fiction and non-fiction, including titles with LGBT+ themes or written by LGBT+ authors.
Our academy library books are available for ANYONE in our school community to borrow:
"Children's author Susie Day picks her favourite middle grade books that explore LGBT+ issues – perfect for older children who want to know more." https://www.booktrust.org.uk/news-and-features/features/2018/february/lgbtq-books-for-children-aged-8-12/
"Representation is so important, both for teens who are themselves LGBT and for others to gain more empathy and understanding." LGBT (YA) | BookTrust
"One way to help ensure a future that is accepting, and kind is to share books that encourage empathy, and give LGBTQ+ characters a story of their own. Here are some suggestions to add to your bookshelves in 2021." https://toppsta.com/blog/view/lgbt-history-month
Activities:
Here are some ideas of other fun things that you can join in with at home to celebrate School Diversity Week and Pride Month.
If you take part and would like to share some of the activities you have chosen to do, please send the details to Miss L Robinson on Teams.
Create your own identity flag
The rainbow flag has been a symbol for LGBT+ people for almost 50 years. LGBT+ people use the flag at Pride parades to proudly show their identity.
What would a flag that shows your identity look like? Try creating one yourself on a sheet of A4 paper. Make sure it uses a range of colours and represents you.
Some things you might want to include:
Things you like (e.g. food, activities, music)
Things that are important to you.
Symbols that represent your heritage or faith
Symbols that represent your LGBT+ identity (if you are LGBT+)
Display your flag wherever you want to show you are proud of your identity.
Bake Off
What better way to celebrate School Diversity Week than with tasty treats?
We recommend making rainbow cupcakes. They are super easy and a lot of fun!
Have a look at this recipe by Tesco
As an extra step you could make mini flags using paper, sticky tape and cocktail sticks. Write messages of support for the LGBT+ community on each one.
If you're feeling extra ambitious how about attempting a Pride celebration cake? This could be decorated with colours of the progress flag.
You could share pictures of your colourful masterpieces with #SDW20.
Letter of Support
Can you take some time to spread kindness? You could try writing letters either to classmates, supportive teachers or to local charities that support LGBT+ rights. You could also write to LGBT+ live artists you love or more personally, a friend you know is struggling.
Watch LGBT+ Films or TV shows
Throughout the week watch film or tv shows with LGBT+ themes and characters. There are a variety of LGBT+ tv shows and films on Netflix currently. Ensure they are age appropriate. Here are some recommendations of Netflix media centred around LGBT+ culture or featuring LGBT+ characters. Share these recommendations with friends and you can discuss them whilst watching.
Pose
The Miseducation of Cameron Post (15)
I am Not Okay With This (15)
RuPaul's Drag Race
Paris is Burning
Black Mirror (San Junipero) (15)
The Queen
The Unbreakable Kimmy Schmidt
Brooklyn NineNine (15)
LGBT+ Playlist
Make a playlist of your favourite LGBT+ artists.
Some examples:
Sam Smith
Hayley Kiyoko
Queen (Freddie Mercury)
Kim Petras
Years and Years
Lil Nas x
Tyler the Creator
Frank Ocean
King Princess
Beth Ditto
Elton John
George Michael
Ezra Furman
Where to find support
You should not feel pressurised to label yourself, your gender identity or sexual orientation. If you do feel you'd like to come out, and are safely able to, you can find support on how to start conversations, and further advice, at Stonewall.
It is always good to speak to someone you trust about the issues you might be facing, no matter how big or small. It can be hard talking about gender, sexuality and relationships, so if you are experiencing difficulties, don't feel ashamed or different, and don't feel you have to hide away from it.
For links to helpful organisations offering advice on a range of issues, check out BBC Action Line.
If you feel you need support you can talk to someone you think will be supportive that you trust, such as a friend, family member, or maybe a trusted youth worker or teacher.
Please visit TCA's Safeguarding and information for families page: https://www.thomasclarksonacademy.org/news/?pid=3&nid=6&storyid=2354