We are buzzing about picking a good book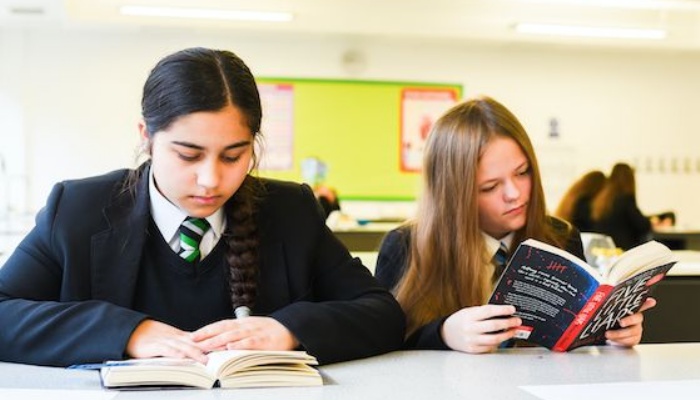 There has been a real buzz around our academy as the Year 7 students have been given the chance to choose their own book as a gift.
The Bookbuzz initiative has 17 titles for them to choose from and every genre, from horror to animal antics, is on offer for the students, so there is definitely something for everyone to enjoy.
More than 200 books will be gifted to the year group as a result of Bookbuzz which is aimed at students aged from 11 to 13 and each title on the list has been specially chosen to encourage and develop reading.
Authors on the list include Alesha Dixon, with Star Switch; journalist and author Patrice Lawrence's Rat and James Campbell's The Funny Life of Teachers - packed with cartoon-style illustrations.
But a popular choice for one group of Year 7s was The Haunting of Aveline Jones by Phil Hicks, a ghost story about a girl who loves ghost stories.
Students Patsie, Wiktoria, Ellie-Mai, Emily and Paulina all decided that the book was their top choice.
"I like a good scary story and that book sounds good," said Emily.
But adventure was the choice of Ethan who decided on D-Day Dog by Tom Palmer which examines the subject of war through the eyes of a young boy. Max opted for Fireboy, by JM Joseph, which is the story of Aiden's amazing superpower.
All of them agreed that the Bookbuzz was a great scheme for the academy to be involved with and they are looking forward to getting their own copies of their chosen titles.
The orders will be going in before half term and students can expect their presents before the end of the year