Celebrate our new scholars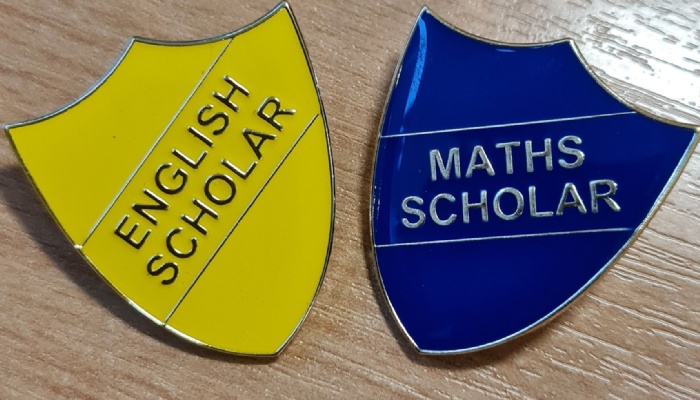 Congratulations to our student students who have become the first to wear very special scholars' badges indicating their hard work and achievement in maths and English.
Last term an invitation was issued for pupils to submit an application for a scholarship in either subject and a group of 20 has been announced.
The new initiative is designed to recognise exceptional talent in maths or English and affords those students the chance to utilise opportunities and resources to apply for Russell Group University places. The 24 research-intesive universities on the list include Cambridge, Oxford, Imperial, University College London and Durham.
While on the programme, students will learn to excel academically, gain confidence and be an asset to the wider community.
The maths scholarship is being run by Mrs Anderson and the English by Mrs Buckland and Mrs Rollings.
Please join us in congratulating the following students in attaining a scholarship. They all had to go through an application process, including interviews, and are a credit to our academy.
Maths scholars (wearing blue badges) are: Pawel Hayduk, Lawrence Twycross, Jack Williams, Tyrone Omiyale, Katya Haggett, Jacob Lowe, George Wallace, Alexander Ketteringham, Charlotte Towler and Callum Malkin.
English scholars (yellow badges) are: Grace Atwell, Michaela Balogova, Olivia Cook, Mischa Ledger, Jokubas Lipavicius, Bethany Longman, Maisie McCarthy, Dawid Okon, Sophie Paynter and Poppie Stratton.