Art students inspired by cathedral exhibition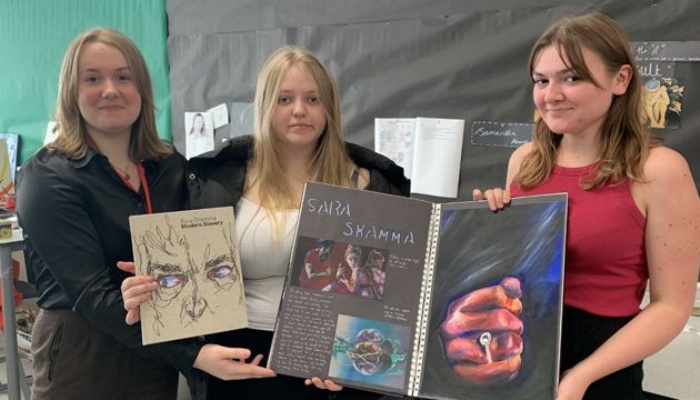 A tough subject depicted at an exhibition held at Ely Cathedral has helped inspire a group of our young artists.
Three sixth form students made the trip to Ely to see the Modern Slavery exhibition by artist Sara Shamma, who created works in response to the plight of the enslaved Yazidi women and girls.
The trio were treated to a guided tour of the work by the artist herself.
The London-based Syrian artist became aware of the display and sale of women and girls in slave markets across Syria and Iraq. Her work, the largest of which is 2.5 metres, was on display at the Lady Chapel of the cathedral.
Students Kayleigh Brooks, Samantha Hawes and Kyeisga McClagish are all in Year 13 and studying art and the chance to see an exhibition by a renowned artist was not to be missed.
"It is great that we are able to start taking students out on trips and visits again, after the pandemic. These experiences enrich the curriculum and are a vital part of the sixth form experience," said Alison Hornby, head of sixth form.
"It was my first exhibition where the artist talked to us directly about her work," said Samantha, 17, who wants to study fine art at Bournemouth University.
"Her work spoke about women involved in human trafficking and it was a challenging social issue," she added.
Aiming for a future career curating exhibitions or as an art teacher, Sam is working on her own portfolio in the run-up to her A levels next spring when she will also take exams in English literature and health and social care.
Art subject leader Sarah Loosemore said it had been a great opportunity for the students to enjoy an exhibition and discuss it with the artist.