Students head into the Dragons' Den to bid for funding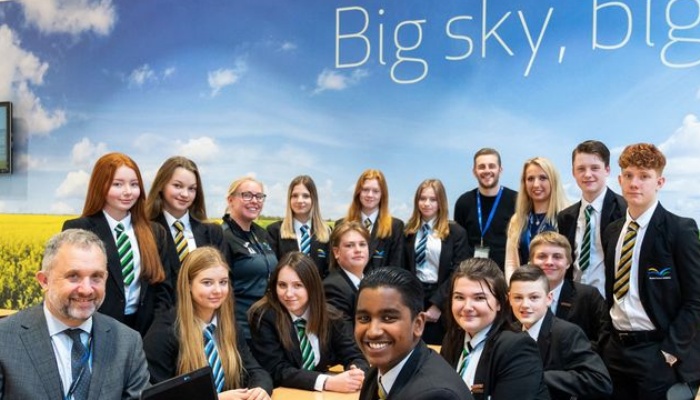 Students had a taste of life in the Dragons' Den when they had to bid for funding to establish a new sports club at our academy.
Three groups were invited to pitch to a panel including principal Mr Scott and they had to present compelling and well-researched arguments as to why their club should be awarded the £1,000.
The 'dragons' also included Miss Anderson and representatives from Living Sport, Megan Fey and Chris Dennis with and the panel had to decide between Ultimate Frisbee, Laser Tag or boxing. The winning bidders will be given the money to launch the new clubs and encourage participation.
"We were incredibly impressed by all of the pitches which had been thoroughly researched and which were discussed with passion and knowledge by the students involved," said Mr Scott.
All three groups were given a brief to follow and it included the need to provide a positive experience with the new club which has to run either at lunchtime or after school. It must also be regularly held and be open to students aged from 14 to 19.
"The students also had to create something that would encourage a change in behaviour so that young people become more active. Each group has worked hard on their project and it will be a difficult decision as to who is awarded the money," said the PE department's Miss Anderson.
Based on the popular BBC TV programme led by five multi-millionaires including Peter Jones and Deborah Meaden, the session followed a workshop held in November held with Living Sport, a charity designed to improve health and happiness of Cambridgeshire residents.
Ultimate Frisbee (also called Ultimate) sees teams of five (indoor) or seven (outdoor) throwing and catching the disc within the pitch. Once you have the frisbee, you cannot walk or run and the teams change ends after each point is scored by catching the frisbee in an end-zone.
Laser tag has light 'guns' used to hit the light-sensitive vests worn by opposing players. It is fast-paced and can be played inside or out and uses technology to ensure there's no pain involved - and the light isn't really a laser.
Boxing is one of the oldest recognised sports and dates back thousands of years. Its present form came after the adoption of the Queensbury Rules in 1867 and it has continued to be popular both for amateurs and professionals ever since.
In recent times it has also become gender equal with many women taking up the sport and competing in the ring.
The final decision on the winning bid will be revealed soon.